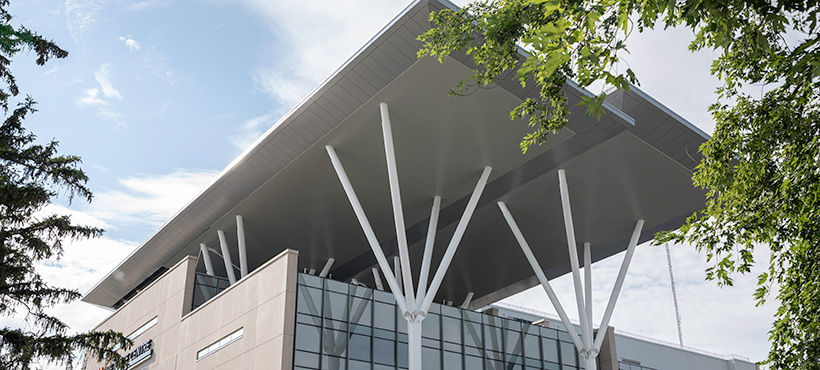 Building the future
Mohawk College is home to Hamilton's first Zero Carbon institutional building.
Building Green
As part of the Mohawk's plan to reduce carbon emissions, the College is committed to building new developments to recognized environmental standards.
The Joyce Centre for Partnership & Innovation was one of the first institutional buildings in Canada to be awarded the new Zero Carbon Building – Design certification from the Canada Green Building Council. The Fennell Campus also features two LEED® Gold certified buildings. LEED® – Leadership in Energy and Environmental Design is the global standard for green buildings in over 132 countries.
For more information about these standards, visit the Canadian Green Building Council website.
---
Explore Mohawk's LEED® Buildings
LEED® Tours
Mohawk Sustainability created LEED® Tours to introduce students and visitors to the many design components within both facilities and to highlight the LEED® Gold certification awarded to the buildings. The tours are an opportunity to explore and interact with the features of this space.
---
Green Energy Projects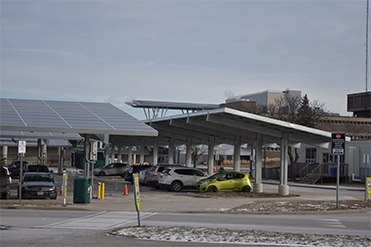 In 2018, Mohawk College received a $10.8-million grant from the Province of Ontario's Greenhouse Gas Campus Retrofit Program for a number of energy retrofit projects. The projects included:
Replacing an existing natural gas-fired boiler with an electric boiler
Additional boiler upgrades on two natural gas-powered units
Introducing a trailer-sized battery storage system, capable of powering up to 1000 homes
Building a solar carport over 200 parking spaces, generating enough power for about 400 homes
Sixteen new electric vehicle charging stations at the Fennell and Stoney Creek campuses
These retrofits are estimated to reduce Mohawk's annual emissions by 617 tonnes of CO2. That is equivalent to taking 154 cars off the road.