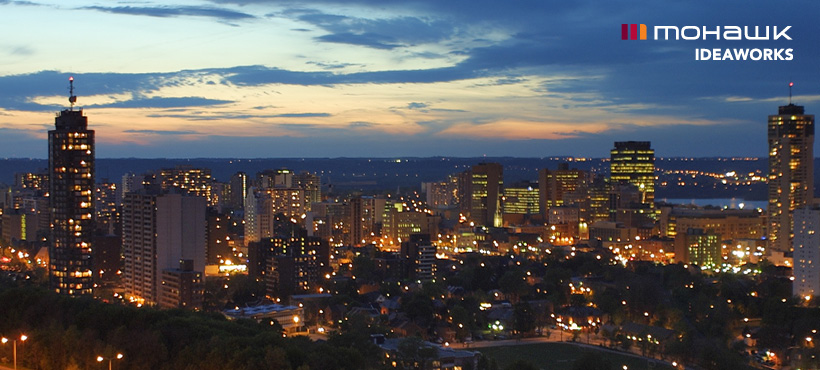 Year in Review
2020 - 2021
Research. Solutions.
And everything in between. 
2020-2021 marked a year of unprecedented change and innovation at IDEAWORKS. It was a year that brought a lot of success to the team but also a lot of difficult moments, as our faculty, students and staff researchers faced personal and professional challenges due to COVID-19.
Like many in the Canadian applied research community, IDEAWORKS's expertise was put to use as part of the COVID-19 response, as we worked with hospitals to 3D print face shields and with schools to help improve classroom ventilation. 

We also continued to grow. We welcomed a new applied research centre to IDEAWORKS: the Centre for Climate Change Management (CCCM). CCCM helps regions transition to a low-carbon economy by partnering with municipal, industry and community partners to catalyze climate change interventions.
In Fall 2020, our Energy & Power Innovation Centre expanded its services by launching as a Technology Access Centre (TAC) that can help manufacturers address energy and other resource challenges. The launch of the TAC was made possible by a multi-million dollar investment by the federal government in Mohawk College research initiatives.
And finally, IDEAWORKS celebrated a milestone in December 2020 when we ranked fourth in Canada for applied research, according to RE$EARCH Infosource. Being named one of the top research colleges in the country reflects our impressive track record of successful projects, but more importantly, it reflects that we have been successful in helping hundreds of companies embrace innovative new ways of doing and thinking.
---
2020-2021 Highlights
Preparing for an innovative future. 
Building knowledge across Canada.
---
Featured Partners

Barventory asked Mohawk's Additive Manufacturing Innovation Centre (AMIC) to help design and prototype a smart keg scale that would be suitable for weighing kegs.

Read more about Barventory.

CanChild asked the mHealth & eHealth Development and Innovation Centre (MEDIC) to design and develop the Back2Play Concussion Monitoring App for iPhones and Apple Watches.

Read more about CanChild.

ENA Electronics Laboratories (ENA) collaborated with the Energy & Power Innovation Centre (EPIC) to support the design and development of a short-circuit finder brush.

Read more about ENA Electronics Laboratories.

QReserve asked Mohawk's Accessibility Research Lab to evaluate its products for accessibility and to provide guidelines for the implementation of digital accessibility. 

Read more about QReserve.

To help improve customer adoption of their product, Icentia asked the research team at the Medical Technologies Innovation Centre to help them minimize the product learning curve.

Read more about Icentia Inc.

Hamilton-based Truck Sail Inc. asked the research team at the Sensor Systems and Internet of Things (IoT) Lab to help them develop a prototype for an innovative safety sensor system.

Read more about Truck Sail.
---
In Numbers
 

153
Faculty and staff researchers

353
Students engaged in applied research

224
Industry, government and academic research partnerships

$10.8 million
In total research revenue
*Numbers for partnership, faculty researchers, technical staff, students engaged, and total research revenue reflect the most recently available numbers from the 2018-2019 fiscal year.
---
Funding partners
Thank you to our funding partners for their support of many of our applied research projects.