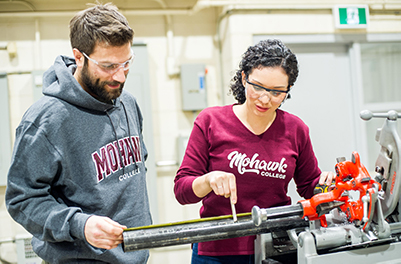 Start here
A Certificate or Diploma can help you develop the skills to enter the workforce.
How it works
Research and apply to a certificate or diploma program through ontariocolleges.ca
Complete a college credential to gain specific trade or industry-related training and experience.
Some college programs will offer co-op or placement opportunities to provide on-the-job experience.
Trained apprentice from outside of Ontario?
If you are an experience tradesperson and have completed your apprenticeship training outside of Ontario see the Ontario College of Trades Equivalency Assessment & Credential Recognition for more information.
Benefits
Gain industry-recognized skills and experience while completing a college program
Be marketable to employers with a completed college credential
Prepare for future apprenticeship training
Contact us to learn more
We're here to help you research various education pathways and apply to college. Contact Discovery Centre to take advantage of free resources and one-on-one support.
If you are an international student see Applying to Mohawk as an International Student.
Other apprenticeship paths to explore: