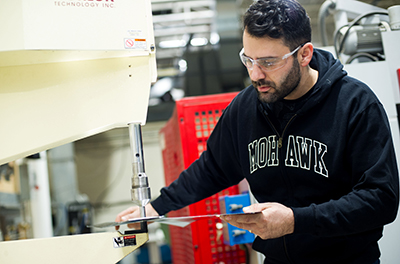 Start here
If you already have the skills and experience an employer is looking for, head straight to the workforce with a traditional apprenticeship path. For Apprentices already registered with the Ministry, visit the Registered Apprentice page if you are looking for a training provider to complete your in-school training requirements.
Completing your in-school apprenticeship training with Mohawk will earn you an Ontario College Credential that is recognized by 24 Ontario Colleges and beyond. This opens your range of options for postsecondary studies in the future, and streamlines your pathway to a diploma. 
Trained apprentice from outside of Ontario
If you are an experienced tradesperson and have completed your apprenticeship training outside of Ontario see the Skilled Trades Ontario: Trade Equivalency Assessment for more information.
How it works
Find an employer who is willing to take on an apprentice and provide training in a specific trade.
The apprentice and employer register with the Ministry of Labour, Immigration, Training and Skill Development to ensure on-the-job training is supervised and required skill sets and hours are tracked and completed as per trade requirements.
On-the-job and in-school training will count towards an Ontario College Certificate, Certificate of Apprenticeship* and Certificate of Qualification* or, in certain trades, Red Seal Certification*.
*Certain trades have specific requirements. Learn more at ontario.ca/page/start-apprenticeship.
Benefits
Able to enter the workforce immediately
Earn wages while completing on-the-job training
Contact us to learn more
If you have an employer, contact an Apprenticeship Community Hub.
If you are looking for an employer to support your apprenticeship journey contact Community Employment Services or check out Apprenticesearch
Other apprenticeship paths to explore: