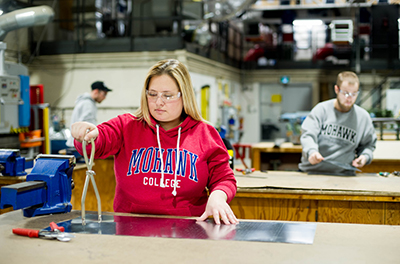 Start here
Begin your apprenticeship journey through a pre-apprenticeship training program. Funded by the Ministry of Labour, Training and Skills Development, for eligible individuals.
How it works
Colleges and community training providers deliver free trades-specific training, offered once a year, as Ministry funding permits.
Individuals apply for and meet eligibility criteria to participate in training.
These programs include trades-specific training, course materials and safety training, including an 8 –12-week work experience.
Benefits
Develop confidence, exposure and skills in a specific trade
Provides specific skills that employers are looking for in potential apprenticeship candidates
Prepare for future trades training
Ministry Funded Pre-Apprenticeship Training Programs
Mohawk College is currently pending official start dates for the following
(2) full time Ministry Funded – Pre-Apprenticeship Training Programs to commence in 2021-2022: Training dates yet to be determined.
1) Plumber – 306A & 2) Refrigeration & Air Conditioning Systems – 313A
If you are interested in either of those trades email debbie.dedauw [at] mohawkcollege.ca to have your name placed on the Contact Call Back List to be advised when recruitment efforts begin.
Interested in other trade areas?  Check under Programs and Courses on the Mohawk College website.  Look for the Program Coordinator associated with each of the programs for contact information.


This project is funded by the Government of Ontario
Questions?
Connect with an Apprenticeship Specialist
Other apprenticeship paths to explore: