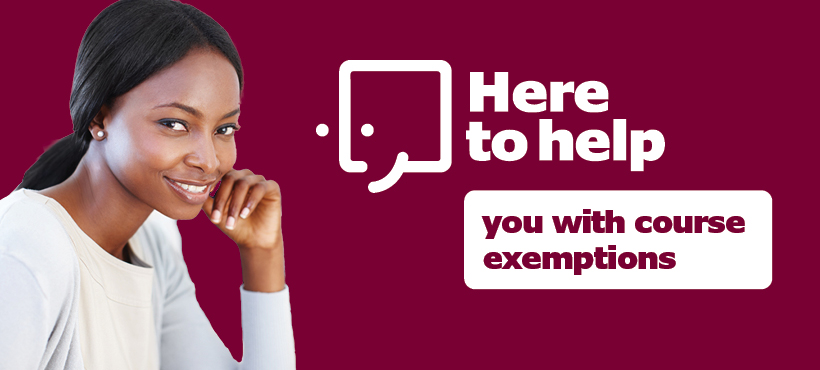 What is a Course Exemption?
If you've successfully taken a course at another post-secondary institution, you may be able to earn credit toward your credential here at Mohawk. Exemptions are granted if a student can show successful completion of work of the same level and scope as defined by the course learning outcomes.  
You do not need to request an exemption for a Mohawk course you have already taken and successfully completed, if the course has the same course code or is listed as an equivalent to the course required in your current program. When you use the exemption request tool, it will confirm any equivalencies. You are not required to take this course again.
Understanding the impact of course exemptions.
Receiving exemptions/transfer credits may impact your course load and affect your full-time program status which can impact your eligibility for OSAP, sponsorships, scholarships, and awards. To connect with someone about these potential impacts, Email Financial Assistance.
For international students, part-time program status could also have immigration impacts with post-graduate work permit eligibility. To speak with someone about these impacts, Email International Student Services.
Important steps to complete your course exemption
Apply early - you need to apply for a course exemption at least six weeks before the start of the semester to allow sufficient time for academic approvals before registration begins.
When you apply for your exemption, pay close attention to the Exemption Request Confirmation page. This page contains important information about the documents required in support of your exemption along with instructions about how to submit these documents. Exemption requests will not be reviewed until all required documents are received. 
Continue to attend your classes until you receive an email informing you of the decision regarding your request. This email will be sent to your Mohawk College email address. If your exemption request is approved, the course will be automatically removed from your timetable.
For assistance
Contact The Square - Student Services at credittransfer [at] mohawkcollege.ca (credittransfer[at]mohawkcollege[dot]ca)
Book a telephone exemptions appointment
Apply for an Exemption in 5 Easy Steps: