2017 COL Award Winners Spectator Ad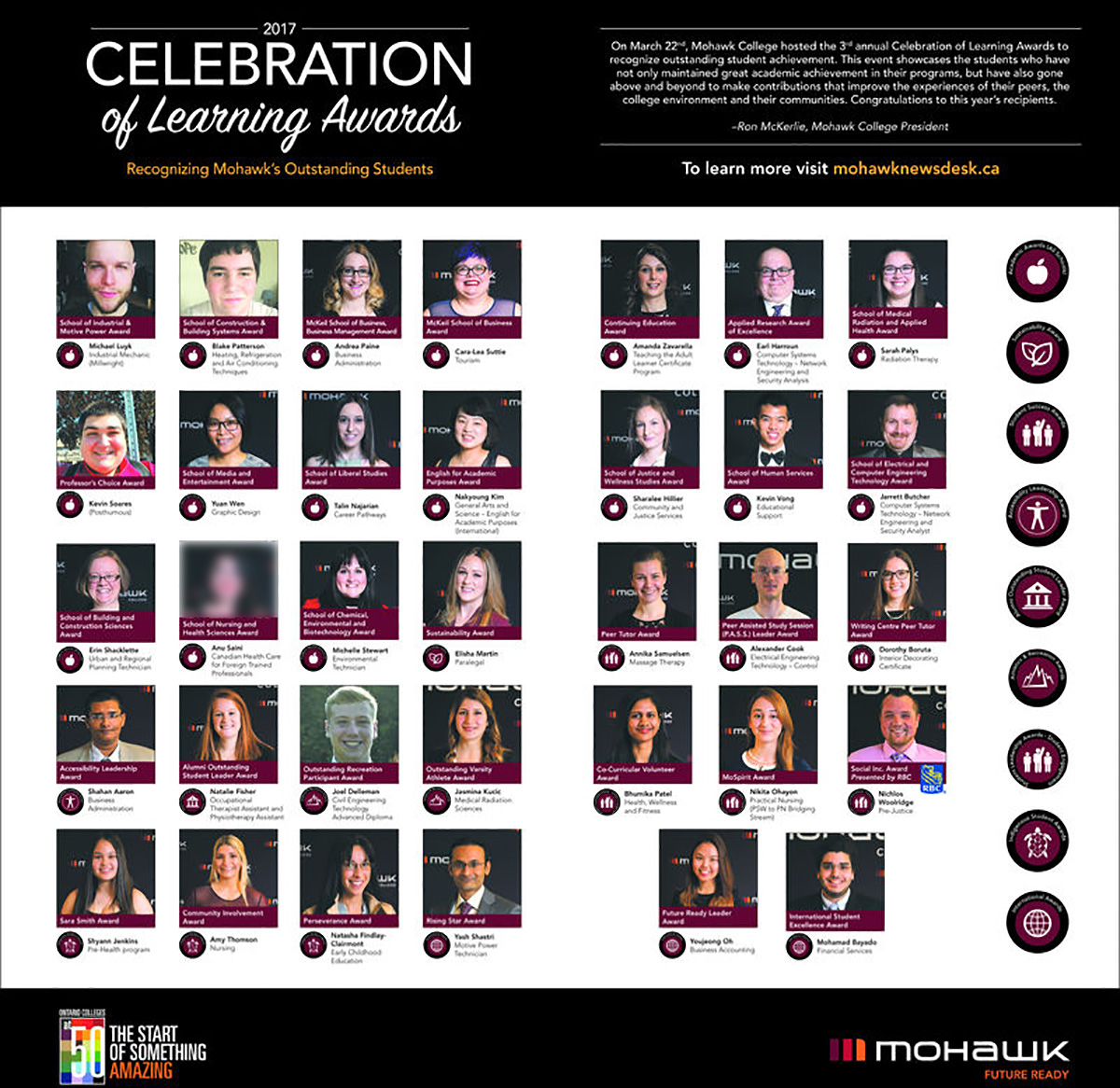 Accessibility Leadership Award
Shahan Aaron
---
Shahan is in his fifth semester of the Business Administration program. He is always willing to lend a hand to other students and as a student with a disability he provided valuable insight that has made our campus more accessible. He is active on the A-O-D-A Advisory and BUILT Environment Committees. He also serves as a rep on the Mohawk Students' Association, volunteers as a member of the MoCrew and is a math tutor for ESL students.
Alumni Outstanding Student Award
Natalie Fisher
---
Natalie is a student leader in their graduating year who is highly engaged and demonstrates each of Mohawk's institutional learning outcomes. This year's recipient has been on the Mohawk women's basketball team for four years. She's also a dedicated volunteer, helping out at a nursing home, with basketball camps and as a coach for four basketball teams. She excels academically as well, displaying the utmost professionalism towards her peers and professors. She was one of the first to enrol in the pilot Mentorship Program through the Alumni Office, and served as a student leader for Mental Health in Motion. She is also a MoCrew leader, and has taken part in student orientation, Open House and other events.
Applied Research Award
Earl Harroun
---
Earl is a US Navy veteran who came to Mohawk after more than 20 years in private security. He began taking Continuing Education courses in 2008 before becoming a full-time Computer Systems Technology - Network Engineering and Security Analyst student and will be graduating this year. Since he started with iDeaWORKS in January of 2015, he has provided technical support for the department's developers, staff, and students. Throughout his studies he maintained a high grade point average, finishing both the two-year and three-year programs with honours. He adopts a Think-Plan-Do philosophy that looks from many angles to identify and minimize potential problems.
CCR Award
Bhumika Patel
---
Bhumika came to Canada from India in September 2015 to study in Mohawk's Health, Wellness and Fitness program and will graduate this April. Over the last two years she has put in more than TWO-HUNDRED and TWENTY hours of volunteer time and has served as a Rep on the MSA, a Peer Mentor, a Peer Note Taker and is a member of MoCrew. And if that's not enough, she's active in the community at organizations such as Start-2-Finish and St. Joseph's Hospital.
Community Involvement Award
Amy Thomson
---
Amy is a student who is active in the Aboriginal community. This year's recipient is in the nursing program at Mohawk. She is Haudenosaunee from the Six Nations of the Grand River, Cayuga nation and wolf clan. She comes from a long line of healers and chose nursing to continue in their footsteps. Her compassion, enthusiasm, focus and initiative set her apart in the workplace. She is passionate about volunteering and dedicates her free time to teaching children karate, volunteering at the Cayuga Longhouse and at the Wentworth Lodge and Shalom Village nursing homes.
Future Ready Leadership Award
Youjeong Oh
---
Youjeong is an international student in her third semester of the Business Accounting Program. She is dedicated to her studies and has been on the Dean's Honor List for the last three semesters. She shows tremendous leadership in the classroom and is always willing to help her peers by organizing activities such as study groups. She's also active in the local community, volunteering to sit on the board of directors for Global Hamilton Connect.
International Student Excellence Award
Mohamad Bayado
---
Mohamad is a student in his fourth semester of the Financial Services Program who is committed to success in every aspect of his life. His faculty and friends describe him as a hard worker, who devotes a lot of his time to helping others. A good example of this is the volunteer work he does for the Language & Culture Centre, where he provides new and returning international students with support and guidance. To help other international students overcome the challenge of writing the math pre-assessment test, he took it upon himself to write a test-prep book and offered students free tutoring sessions weekly. He also planned and executed a fundraiser for the victims of the Alberta wildfires in 2016, successfully raising a thousand dollars for the Red Cross. He does all this while maintaining a grade point average of 90 per cent.
McKeil School of Business Award
Cara-Lea Suttie
---
Cara-Lea is an individual who feels it's important to be engaged in the college community. She volunteers with both Mental Health in Motion and the Student Engagement office and takes part in the Food Drive for Eva Rothwell Centre. And when she's not busy volunteering she can be found polishing her leadership skills through Mohawk's Student Leadership Development series.
McKeil School of Business, Business Management Award
Andrea Paine
---
Andrea is a sixth semester student in the Business Administration program. At 93 per cent, this student has the highest grade point average in her class. She is also very active in the college community. She was a P.A.S.S. Leader for three semesters and a Peer Tutor for one semester. She is the student representative in our Business Administration program advisory committee. And she is also MSA student rep, MoCrew Member, and active student volunteer. She is currently working as a Student Events and Projects Ambassador through our student employment program. And she even helped organize her own awards show as one of the organizers of tonight's event.
MoSpirit Award
Nikita Ohayon
---
Nikita is a student whose passion and enthusiasm motivates other students to get involved. This year's recipient is a student in the Practical Nursing Program that has been a volunteer for Mohawk College for the past year. She is always willing to volunteer her time and energy for causes she cares about, and outside of college volunteers at her synagogue. She is an excellent communicator, and actively seeks opportunities to improve her communication skills including being the emcee for the Remembrance Day Ceremony held at the IAHS campus, an event she helped organize.
Outstanding Intermural / Rec. Award
Joel Delleman
---
Joel has been active in the athletics program since he started at Mohawk two years ago.  He's a team captain and has participated in more than seven recreation leagues and tournaments. He was also a member of the 2016 Recreation Team of the Year. Beyond intramural sports, he's also been a stalwart for the extramural men's hockey team. His enthusiasm, athleticism and ability to see the lighter side of sport has made recreation athletics more enjoyable for the students and staff around him. 
Outstanding Varsity Athlete Award
Jasmina Kucic
---
Jasmina has demonstrated a commitment to their sport and the community. This year's recipient balances schoolwork and athletics with ease. When she is in class, she is all about the academics, and when she's on the court, she's all about the game and is always striving to do her best. And when she's not in class or on the court at the DBARC she can be found at Sir William Osler Elementary where she coaches the school's co-ed basketball team.
P.A.S.S Leader Award
Alexander Cook
---
Alexander is a fourth semester Electrical Engineering Technology – Control student who started his role as a Peer-Assisted Study Sessions Program leader in the Fall of 2016. We have been incredibly fortunate to have him back this winter semester to continue to support first-year students with their engineering math studies. His optimism, dedication, and passion for helping others is an inspiration to our team and a huge benefit to his program.
Peer Tutor Award
Annika Samuelsen
---
Annika is in her fourth semester of the Massage Therapy program.  She began as a Peer Tutor in the Fall of 2016 and we hope that she'll continue to be a peer tutor until she graduates this December. Around the Learning Support Centre she is known for her infectious personality, her friendly demeanour and her passion for helping her peers succeed in their studies.
Perseverance Award 
Natasha Findlay-Clairmont
---
Natasha is a student who, despite obstacles, demonstrates commitment, pride and a positive attitude in pursuit of their academic studies. This year's recipient is a student from the Early Childhood Education program who prides herself on her ability to help others. She is hard working and determined to overcome whatever obstacles she might face. She is a member of the Hamilton Regional Indian Centre, and taught herself traditional practices such as smudges, prayers and meditation and is currently taking classes to learn traditional languages.
Rising Star Award
Yash Maheshkumar Shastri
---
Yash has been described by everyone who knows him as a pleasure to be around. He achieved a grade point average of 92 per cent and has been on the Dean's Honor List for the last three semesters of his Motive Power Technician Program. His love for Mohawk is evident in the variety of activities he is involved in. During his time here he has accumulated more than 350 hours of volunteer time. He's helped the International Student Office, Accessible Learning Services, the Walk Smart Program, Mohawk Experience Events, and the Sustainability Office. And he takes that same passion for volunteering into the community through his involvement with the City of Hamilton Snow Angels, Hamilton Victory Gardens, and Christian Horizons. And when he's not doing all of those things he also dedicates his time to work with a 7-year-old boy with autism as part of the boy's home-based behavioral therapy program.
Sara Smith Award
Shyann Jenkins
---
Shyann is a student who demonstrates success in their academic, personal and community involvement. This year's Sara Smith Award goes to a student in Mohawk's Pre-Health program that is very proud of her Aboriginal heritage.  Born and raised in Hamilton she is Cayuga Turtle Clan, from Six Nations of the Grand River, and she has been very active in looking for ways to create opportunities for Indigenous youth in the city. Those who know her, describe her as an outstanding leader who is committed to making a difference in her community.
Social Inc. Award
Nichlos Woolridge
---
Nichlos a student that has shown a strong commitment to advancing the college's values of inclusion and diversity. This year's recipient is definitely deserving of this award. He started in the Pre-Justice program at Mohawk in September 2016 and quickly stepped up to the challenge, taking on the leadership of the Mohawk Pride Club. As Student Leader for Pride, he helps organize events such as Movie Nights and Coming Out Day activities. As an advocate for the LGBTQ community, he also volunteers with Brant Family and Children's Services – helping with their Listen to Me Project for LGBTQ youth. On top of all of that, he has recently become a rep on the Mohawk Students' Association and he will be starting the Social Service Worker program in the fall.
Sustainability Award
Elisha Martin
---
Elisha is in the fourth semester of the Paralegal Program and throughout her time at the college has been an active participant in on-campus sustainability projects while promoting sustainable living to her peers. She is the Director of Community & Urban Studies on the MSA's Board, where she has continued to demonstrate her passion for sustainability. As Sustainable Food Systems Research Assistant in the Sustainability Office, she worked on key projects including: the Rooftop Pollinator Garden that was done in partnership with the World Wildlife Fund, the Mohawk Community Garden, and the Local Food Procurement Project in partnership with the Greenbelt Fund. She also acted as liaison with the Meal Exchange, a community organization working to eliminate student food insecurity across Canada. And she has worked with local community organizations such as Neighbour 2 Neighbour and Namaste Local, a local yoga studio. She approaches everything she does with a positive attitude and takes every opportunity to promote sustainability on campus and in the community.
Writing Centre Peer Tutor Award
Dorothy Boruta
---
Dorothy has been a Writing Centre Peer Tutor since May 2015. She is currently working towards her Interior Decorating Certificate, through Mohawk's School of Continuing Education. She is held in high regard by her peers who regularly look to her for advice and guidance. She has been very active at the Writing Centre, facilitating Conversation Clubs and LINC 6 workshops for ESL students. She has also co-facilitated numerous Start Smart presentations; introducing the services of the Learning Support Centre to incoming students.
Continuing Education Award
Amanda Zavarella
---
Amanda is a student who excels academically in the Teaching the Adult Learner Certificate Program. She is also very active in the college community, volunteering for a variety of events, such as Day One Orientation, Continuing Education Start-Up, and the Road to College Success workshop. She is also a member of the MCACES Advisory Council and serves as a Peer Tutor helping her fellow students.  She goes above and beyond the task asked of her to ensure the success of any project she takes on. And she does all of this while working full time and raising a family.
English for Academic Purposes Award
Nakyoung Kim (Raina)
---
Nakyoung is a student who is always there for her classmates. She is always ready to provide guidance and mentorship to the younger students in her class, supporting them and pushing them to work harder. She befriends, tutors, encourages, and supports them through what can be a very difficult transition, and many do better academically and are just generally happier because she has been there for them.
School of Building and Construction Sciences Award
Erin Shacklette
---
Erin is a student who is committed to helping her peers. She volunteers with the Environmentally Committed Organization of Students and won first place in the Mohawk Sustainability Initiative Ideas Bank in 2016 for suggesting that occupancy lighting be installed in campus washrooms. Since 2015, she has volunteered in the community with Habitat for Humanity, Green Venture, The Escarpment Project, Beautiful Alleys, Crown Point Newspaper, Environment Hamilton, and The City of Hamilton.
School of Chemical, Environmental and Biotechnology Award
Michelle Stewart
---
Michelle is a student who was chosen by her peers to be their class representative because she always has their best interests in mind. She regularly plans study groups and is always ready to assist her peers with their course material. She also volunteers at her daughters' school. She strongly believes that "the world around us is constantly changing and evolving and thus so should our knowledge of it."
School of Construction & Building Systems Award
Blake Patterson
---
Blake is a student who is always willing to lend a hand to other students in his class. He is an excellent communicator who has shown that he can use creativity combined with solid analytical thinking to solve problems. Most recently he put his skills to work to help design and build wheelchair ramps for a local building that needed to be made accessible to persons with disabilities. 
School of Electrical and Computer Engineering Technology Award
Jarrett Butcher
---
Jarrett was a teacher in South Korea for 10 years before coming to Mohawk to change careers. A married father of two young boys, he has maintained an above-average GPA throughout his studies. He takes every opportunity to help and connect with fellow students, and has served as a Peer Tutor and an International Peer Mentor. In the community, he regularly donates blood to the Canadian Red Cross and volunteers as a Web Master to Norwood Park Elementary School near his home.
School of Human Services Award
Kevin Vong
---
Kevin is often described as optimistic, enthusiastic, hard-working and having a great attitude. He believes in empathetic and objective communication to solve problems and strengthen relationships, and many say his positivity is contagious. Kevin is an MSA class rep, and he goes above and beyond to help his professors and classmates as much as possible, while maintaining high grades himself. When he's not in class he dedicates his time to volunteering at Big Brothers, Big Sisters Hamilton and with Mohawk's Educational Assistant program.
School of Industrial & Motive Power Award
Michael Luyk
---
Michael is a student whose dedication to his studies shows in his consistently high grades. After three semesters he continues to maintain a grade point average in the 90s. He has also volunteered at college open houses helping to introduce potential students and their parents to the program.
School of Justice and Wellness Studies Award
Sharalee Hillier
---
Sharalee is a student who is committed to constant improvement. In an effort to learn as much as she can about her field she regularly attends seminars on topics relating to her studies. She is someone who has no trouble connecting with everyone she meets, and is highly regarded as a rising star in her profession. Her passion and enthusiasm for her volunteer work is contagious and she has inspired many of her classmates to begin volunteering in the community.
School of Liberal Studies Award
Talin Najarian
---
Talin is a student who is proving she can overcome any challenge she faces. She is highly motivated and driven to succeed and she has used that to overcome a learning disability and achieved a 91 per cent grade point average in her program. And it doesn't stop there. She is active in her community, serving as a member in the Armenian Youth Federation, and she has been recognized for her leadership in promoting a more inclusive environment. She is also an accomplished athlete. Last year she was presented with the Student Athlete of the Year Award from Special Olympics Ontario in recognition of her many achievements.
School of Media and Entertainment Award
Yuan Wen
---
Yuan is a graduate of the Language Instruction for Newcomers (LINC) program that is now enrolled in Mohawk's graphic design program. This student has made the Dean's Honour List every semester, and recently, she won the Virtual Reality Logo Competition at the Advancing Learning Conference. She's also an active volunteer at Mohawk and in the community, sitting on the grad panels for LINC, the ESL Voices editorial team, the ESL Student Council, she fundraises for Syrian refugees, volunteers in the Printing Centre, is a board member with Club Gain, the Paparella Innovative Art program for the Salvation Army, and has completed volunteer training at Dr. Bob Kemp Hospice. 
School of Medical Radiation and Applied Health Award
Sarah Palys
---
Sarah is in her third year of the radiation therapy stream of the Mohawk-McMaster medical radiation sciences program. She is one of the top students in her class, and stays active in the college community. She also volunteers her time at the McMaster Children's Hospital, and is part of the external outreach subcommittee of the McMaster Cancer Society.
School of Nursing and Health Sciences Award
Anu Saini
---
Anu is a student that is involved in her community and volunteers as a MoCrew Leader. She has logged many hours as a volunteer and is an ambassador to new students in the Canadian Health Care Program. This semester she extended a helping hand to the new international students by volunteering as an International Peer Mentor. And through all of this she has maintained her Dean's Honours List status for that past three semesters.