What is Universal Design for Learning?
Universal design for learning (UDL) is a curriculum design, development and delivery framework used to create accessible and inclusive learning environments. 
UDL guidelines are based on three primary brain networks:
Affective

Recognition

Strategic
Each network is identified by a principle to guide design, development and delivery in practice:
Multiple means of engagement

Multiple means of representation

Multiple means of action and expression
Each network contains three checkpoints (nine in total) that emphasize learner diversity that could either present barriers to learning or opportunities for greater engagement. The checkpoints are as follows:
Multiple means of Engagement

Options for self-regulation

Options for sustaining effort and persistence

Options for recruiting interest

Multiple means of Representation

Options for comprehension

Options for language, math and symbols

Options for perception

Multiple means of Action and Expression

Options for executive functions

Options for expression and communication

Options for physical action
The graphic organizer below offers a visual representation of the UDL Guidelines at Mohawk College:.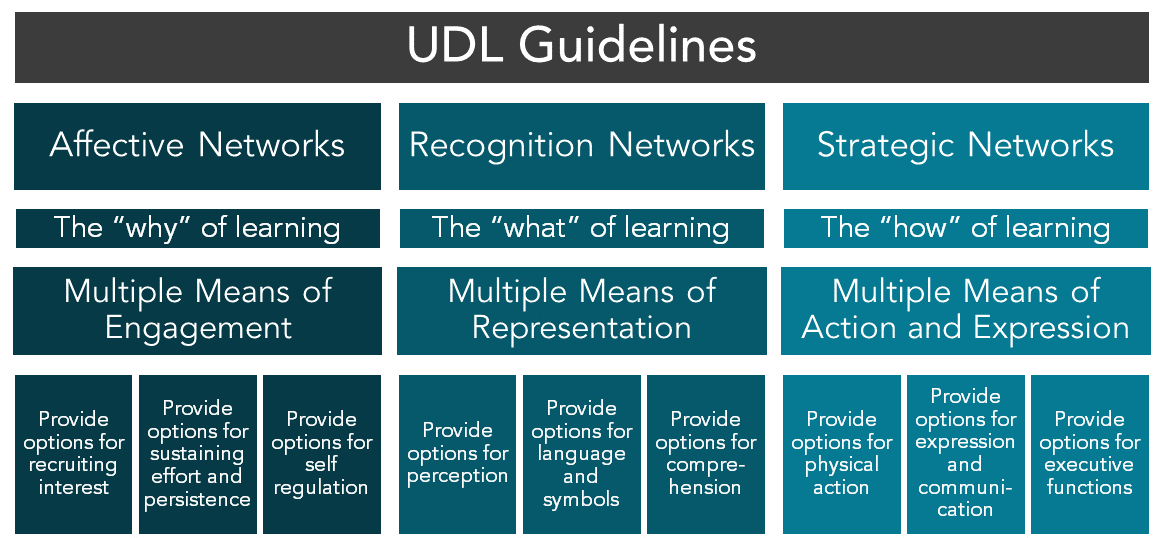 Access an accessible version of the Universal Design for Learning Guidelines graphic: Accessible version of UDL Graphic in Word or Accessible version of UDL Graphic in PDF.
Use the links to the left (when on a desktop computer), or the links at the bottom (when on a mobile device) to explore universal design for learning at Mohawk College, including information for faculty, current initiatives and useful resources.
UDL Standard
Based on the data obtained through the 2017-2018 Universal design for learning for technology-enabled post-secondary courses at Mohawk College research project, the UDL Standard for Mohawk College has been developed. The goal of a college-wide standard regarding UDL is to promote the advancement of Mohawk College's commitment to accessibility and inclusion in all learning environments.
The UDL Standard is not prescriptive, and is meant to provide consideration options to support the design, development, and delivery of curriculum. Please review the UDL Standard, in one of the formats included below, to determine how you might include UDL in your curriculum design, development, and delivery.

Access the UDL Standard as a Word document 

Access the UDL Standard as a PDF document
Universal Design for Learning Contact Information
Darla Benton Kearney is the Universal Design for Learning Curriculum Consultant in the Center for Teaching & Learning. Please feel free to connect with her at darla.benton [at] mohawkcollege.ca or extension 3688.

Access this information as a Word document

Access this information as a PDF document