Universal Design for Learning (UDL) is meant to be a proactive approach to common and systemic learning barriers. Implementation makes learning more accessible, inclusive, and tractable for all students, while saving faculty time and effort. 
Using the tabs on this page you will find a number of context specific UDL implementation ideas and initiatives.
UDL Course Assessment
To determine the UDL elements already in a course, or to determine where UDL can be added and obtain targeted resources, the UDL Course Assessment is a great place to start. To access the UDL Course Assessment, please use the link above or the image below.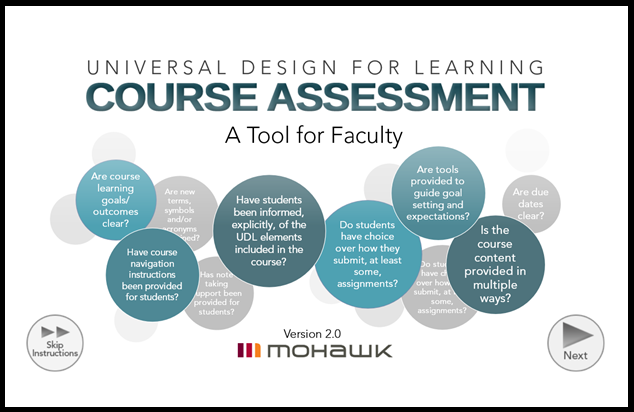 UDL Course Statement
By including a UDL statement on course sites and learning plans, learners will be made aware of what UDL elements have been included in the course, as well as the options that exist for them to gain course content and show what they know.     
If you have implemented UDL in a course copy, paste and modify the UDL Statement below. Once the statement has been customized to a specific course it can be included on the course site, learning plan, as well as anywhere else you feel students will see it.
Universal Design for Learning
This course has been designed using Universal Design for Learning guidelines. The following elements have been incorporated into this course to support greater inclusion and access:   
100% additional time has been added to quizzes and tests.

Lecture presentations are offered in advance of class.

Varied assessment methods throughout the course.

Course content and resources are available in a variety of formats.

Multimedia learning resources.

Closed captioning or a transcript provided for videos. 
MyCanvas Course Master Template
has designed a Course Master Template with UDL elements for MyCanvas. The template can be used by Mohawk College educators as a starting point for new course builds or when redeveloping a course. The CTL Course Master Template (UDL) is evidenced-based, has incorporated student feedback, and includes a wide range of UDL elements. In addition, the template is fully customizable and is supportive of all delivery modalities.
The CTL Course Master Template (UDL) document outlines the purpose and key features of the template. If you have questions after reviewing this resource, please connect with the ctl [at] mohawkcollege.ca (Centre for Teaching & Learning).
Additional Information
If you are interested in implementing UDL, need support to customize the UDL Statement for your course(s) or have implementation ideas, please connect with Darla Benton Kearney, Teaching & Learning Consultant – UDL, in the Centre for Teaching & Learning, at darla.benton [at] mohawkcollege.ca or extension 3688.

Access implementation information as a Word document

Access implementation information as a PDF document