Universal Design for Learning (UDL) is meant to be a proactive approach to common and systemic learning barriers. Implementation makes learning more accessible, inclusive, and tractable for all students, while saving faculty time and effort. 
Using the tabs to the left (on a computer) or at the bottom (on a mobile device) you will find a number of current UDL implementation ideas and initiatives. More implementation ideas and initiatives will be added to this webpage as they are developed.
UDL Course Assessment
If you are not sure of the UDL elements currently in a course, or to determine where UDL can be added, the UDL Course Assessment offers a great place to start. To access the UDL Course Assessment, please use the link above or the image below.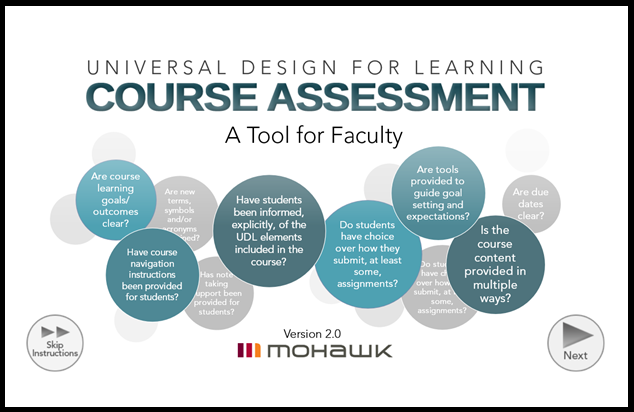 The Universal Design for Learning (UDL) Guide | For Fully Online Learning Environments offers you some UDL elements to consider when designing, developing, and delivering curriculum for an online learning environment. This guide has been adapted from the online UDL Course Assessment and while you are still welcome to use the tool, at this time you may find it helpful to have a more streamlined resource solely focused on online learning environments.

Access the UDL Guide Online as a Word document

Access the UDL Guide Online as a PDF document
UDL Course Statement
By including a UDL statement on course sites and learning plans, learners will be made aware of what UDL elements have been included in the course, including what options exist for them to gain course content and show what they know.
If you have implemented UDL in a course please copy, paste, and modify the UDL Statement below with the UDL elements that have been included. Once the statement has been customized to a specific course it can be included on the course site, learning plan, as well as anywhere else you feel students will see it.
Universal Design for Learning

This course has been designed using Universal Design for Learning guidelines. The following elements have been incorporated into this course to support greater inclusion and access:   
100% additional time has been added to online quizzes.

Varied assessment methods.

Course content has been written in HTML so the text can be read using the "Listen" button at the top of each page.

Course materials provided in multiple formats (PowerPoint and PDF). 

Closed captioning or a transcript provided for videos. 

Multimedia learning resources.
Additional Information
If you are interested in implementing UDL, need support to customize the UDL elements here for your course(s), or have implementation ideas, please connect with Darla Benton Kearney, Universal Design for Learning Curriculum Consultant, in the Centre for Teaching & Learning, at darla.benton [at] mohawkcollege.ca or extension 3688.

Access implementation information as a Word document

Access implementation information as a PDF document