The resources found on this page are great sources of information regarding Universal Design for Learning (UDL).
 
The UDL Standard for Mohawk College serves as a resource providing direction for UDL considerations when designing, developing and/or delivering curriculum. Use the links below to review the Standard:

Access the UDL Standard as a Word document

Access the UDL Standard as a PDF document
Take the UDL Course Assessment to determine the UDL elements currently in your course(s) and gain additional, targeted resources to support further UDL implementation. To access the UDL Course Assessment, please click the link above or the image below.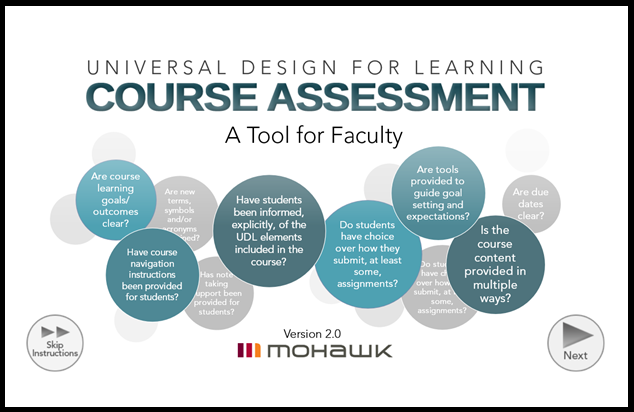 Mohawk College UDL webpages
Todd Rose at TEDx Sonoma County
Mohawk College Faculty UDL Examples
UDL Navigators in Higher Education: A Field Guide
Jodie Black and Eric Moore

Available at the Mohawk College Library
Universal Design for Learning: Theory and Practice
Engage the Brain: How to Design for Learning that Taps into the Power of Emotion
Allison Posey

Available at the Mohawk College Library 
Universal Design in Higher Education
Edited by Sheryl E. Burgstahler

2nd Edition

Available at the Mohawk College Library
Teaching Every Student in the Digital Age: Universal Design for Learning
David H. Rose, Anne Meyer, Nicole Strangman, and Gabrielle Rappolt
Applying Universal Design for Learning in Online Courses: Pedagogical and Practical Considerations
Analyzing a College Course that Adheres to the Universal Design for Learning (UDL) Framework
Case Study: Suggesting Choice - Inclusive Assessment Processes
Student Uses and Perceptions of Closed Captions & Transcripts
 
These Twitter feeds will keep you up to date on UDL news, events, and implementation efforts:
Feel free to peruse the presentations below to learn more about UDL at Mohawk College.
Universal Design for Learning and the accessibility requirements of the Accessibility for Ontarians with Disabilities Act (AODA) are distinct from each other. However, if you are developing alternate resource options for students, you will want to take accessibility into consideration. For more information on creating accessible documents, please review the "Accessible Documents and Alternate Format" resources on the AODA "Tool and Resources" webpage.
While there are a number of UDL resources here, a variety of others are in the development process. New resources will be added to this page as they are created, found, or obtained. If there is a UDL resource you need, or you know of a resource that would be valuable here, please contact Darla Benton Kearney, Universal Design for Learning Curriculum Consultant, in the Centre for Teaching & Learning, at darla.benton [at] mohawkcollege.ca or extension 3688.

Access resource information as a Word document

Access resource information as a PDF document