Universal Design for Learning (UDL) is a curriculum design, development, and delivery framework used to create inclusive and accessible learning environments. The goal of UDL is to ensure inclusion in teaching and learning processes, while encouraging the development of expert learners.
The three central principles of UDL are:
Provide multiple means of engagement

– Develop learning options to produce and sustain interest.

Provide multiple means of representation

–

Provide content in multiple ways.

Provide multiple means of action and expression

– Offer options that allow students to fully demonstrate knowledge.
Extensive research identifies UDL as an effective practice and comprehensive framework to support inclusion, equity and access throughout the curriculum development process and in any learning modality. UDL implementation is not in addition to the curriculum design, development and delivery work educators do. Instead, UDL is the framework by which educators can design, develop and deliver curriculum to make learning more tractable, equitable and inclusive for all students.

Benefits of Universal Design for Learning
UDL has benefits for both learners and educators. UDL has the capacity to make teaching and learning more inclusive and accessible for everyone. Educators who implement UDL often find:
A reduction in the need for, and time required to arrange, individual learning and assessment accommodations.

The proactive approach supports planning for every learner.

Greater opportunities for students to fully, and more accurately, demonstrate their knowledge.

Students who become more self-aware and knowledgeable learners.

Improved access and inclusion in their teaching and learning spaces.
UDL for Equity, Diversity and Inclusion
While the UDL Guidelines are designed support all students, some of the most significant benefits are gained by equity-deserving learners who have not traditionally been actively included in higher education spaces. UDL has great capacity to support Mohawk College's Equity, Diversity and Inclusion (EDI) goals and reach our accessibility targets.
The following videos outline the benefits of UDL for distinct populations of learners at Mohawk College:

Universal Design for Learning and You
Many educators at Mohawk College have already implemented UDL elements in their courses. The list below, and following graphic, offers UDL examples employed by Mohawk College educators:  
Examples of Multiple Means of Engagement
Explicitly state learning goals and expectations.

Provide note taking support.

Give opportunities to collaborate.

Offer opportunities for reflection.
Examples of Multiple Means of Representation
Provide content in multiple ways. 

Employ interactive learning activities.

Use multimedia resources to deliver content.

Link new information to previously learned content.
Examples of Multiple Means of Action and Expression
Develop a learning plan and follow it. 

Provide access to resources to deepen learning.  

Include a variety of communication options.

Offer opportunities to review content or practice skills.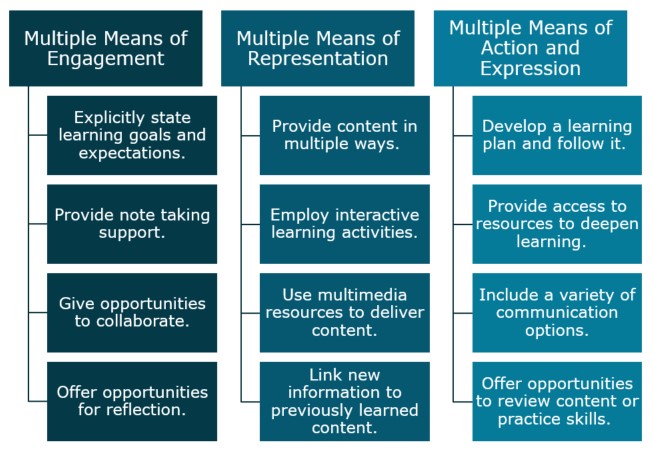 The following videos provide examples of the UDL implementation process and/or specific interventions by Mohawk College faculty:
For more UDL ideas and support, review the UDL Standard and the UDL Course Assessment. The UDL Implementation webpages also provide a variety of ideas and resources to support including UDL in your curriculum.
 
UDL Standard
The UDL Standard for Mohawk College is an effective resource to support your UDL implementation as it provides context specific UDL considerations for curriculum design, development, and delivery. You can learn more about Mohawk College's UDL Standard by watching the video UDL website landing page or using the links below.

Access the UDL Standard as a Word document

Access the UDL Standard as a PDF document
 
UDL Course Assessment
Take the UDL Course Assessment to determine the UDL elements currently in your course(s) and gain additional, targeted resources to support further UDL implementation. You can access the UDL Course Assessment by using the link above, or clicking the image below.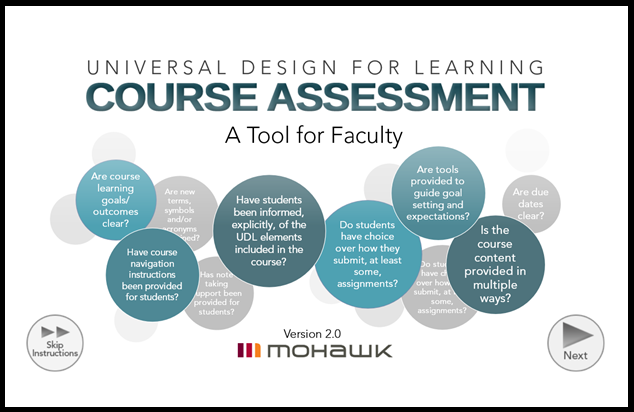 Universal Design for Learning and Us
If you are interested in learning more about UDL, or would like support for your implementation you can:
Connect with the

Centre for Teaching & Learning (CTL) and/or attend CTL professional development events.
Contact Darla Benton Kearney, Teaching & Learning Consultant – UDL, at

darla.benton

[at]

mohawkcollege.ca

or extension 3688.

Access the UDL Information for Educators as a Word document

Access the UDL Information for Educators as a PDF document