Connecting your future
The Apprenticeship Community Hub is designed to address apprentice, employer, and industry needs, and to help connect your future. The Apprenticeship Community Hub is a free resource that:
Delivers navigation resources, support and programs
Showcases the trades and stimulates learning
Helps remove barriers for those looking to participate and succeed in the skilled trades
Keeps apprentices in movement to strengthen our local, provincial and federal economy
Meet Our Team
Learn about Apprenticeship

Employers
Understand Ministry training standards, in-school apprenticeship training dates, financial incentives and get resources to become a more effective trainer.

Registered Apprentices
With industry recognized training, state-of-the-art labs and shops, and experienced faculty, Mohawk apprentices are highly skilled and can receive an Ontario College Certificate.

Future Apprentices
Hands on learning and in-demand jobs, find out how apprenticeship training sets you up for success!

Educators
We're here to help your students explore skilled trades and understand opportunities for careers in the skilled trades.
About the Hub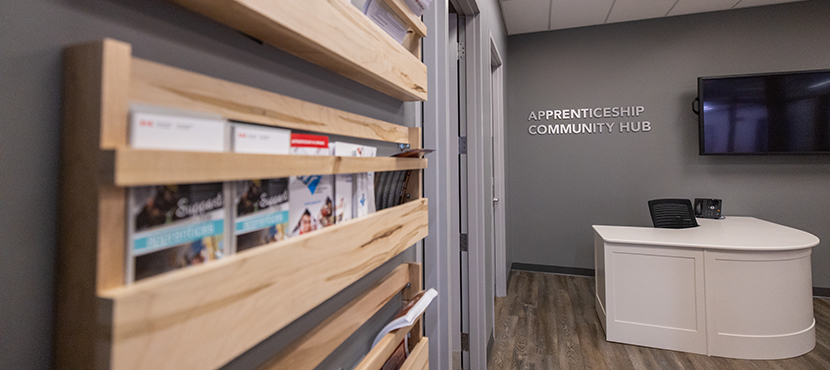 Located in The Marshall School of Skilled Trades & Apprenticeship, The Hub will strive to elevate the way Mohawk meets the needs of its community by defining multiple pathways and increasing access to skilled trades and apprenticeship.
The Hub's Priorities are:
Provide resources to individuals interested in the skilled trades
Strengthen relationships with employers/experts in the industry
Promote the skilled trades as a viable career option
Karen Breitner '88, '92
2020 Alumni of Distinction recipient
Contact us to learn more
Connect with an Apprenticeship Specialist.