What is Comprehensive Internationalization?

 "Comprehensive Internationalization is a commitment, confirmed through action, to infuse international and comparative perspectives throughout the teaching, research, and service missions of higher education. It shapes institutional ethos and values and touches the entire higher education enterprise. It is essential that it is embraced by institutional leadership, governance, faculty, students, and all academic service and support units. It is an institutional imperative, not just a desirable possibility. Comprehensive internationalization not only impacts all of campus life but the institution's external frames of reference, partnerships, and relations."  (Hudzik, 2011)
Where We've Been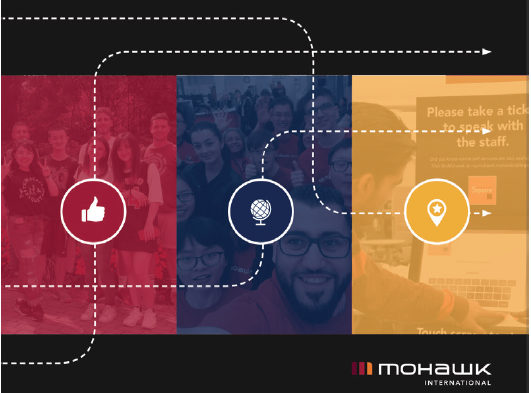 Over the past 3 years, Mohawk College has been committed to an Internationalization strategy comprising three pillars:
Great Experience
Global Citizen
Leader
In collaboration with partners across the college and the community, we were able to achieve our goals within those pillars:
Diversification of our international student enrollment, reaching 103 countries represented across our international student body and an enhanced experience for future students that features weekly webinars, a Future Student App, virtual open house, and more.
An enriched international student experience with the implementation of initiatives such as International Square, Cross-College Supports, iCent, Airport Welcome, a full-year calendar of events in the LCC, a new arrivals process, and more.
International teaching and learning trips for faculty and students, including a training program for faculty to Ecuador in 2020, placements for Mohawk students in Italy and Mexico, Career Ready trips to Greece, Jamaica and India, and development of the GLO initiative, as well as work toward the development of a global competency framework.
Enhanced systems and processes with the implementation of new automated admissions and agent management platforms – in progress.
Watch a video featuring international learning trips for students that took place from 2018-2020.
Watch a video about an international faculty development trip to Ecuador in 2020 that supported faculty to become global learning ambassadors.
Where We're Going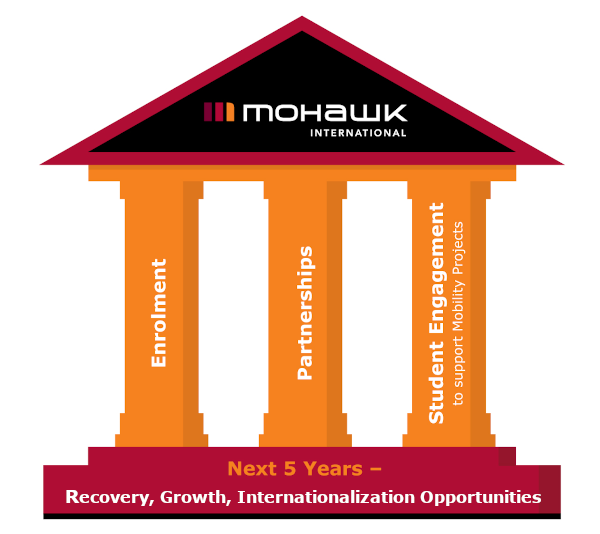 Over the next 5 years, our vision includes the following Internationalization Pillars:
Enrolment: continue to expand access to Mohawk's quality programs in more regions of the world.
Partnerships: Bolster our global partnerships with the aim to enhance and develop:

Experience Abroad/Student and Faculty Mobility
Business Development Expertise
Twinning Partnerships
ESL Training
International Projects
Campus Abroad
Overseas Curriculum Delivery
Marketing Online Courses Internationally
Specialty Training
Summer Programs/Camps

Student Engagement to Support Mobility Projects: Enhance the international student experience and develop global competencies among all students, staff and faculty.
International & Partnerships Department 5-Year Strategic Plan
Inspired by the vision of a welcoming, inclusive community, and powered by the College's Comprehensive Internationalization strategy, Mohawk International's Strategic Plan is built on the 3 pillars of Recruitment & Enrolment, Student Experience and Partnerships & Global Engagement. Each pillar is dependent upon and informed by the other pillars so that they flow into one another, as depicted below.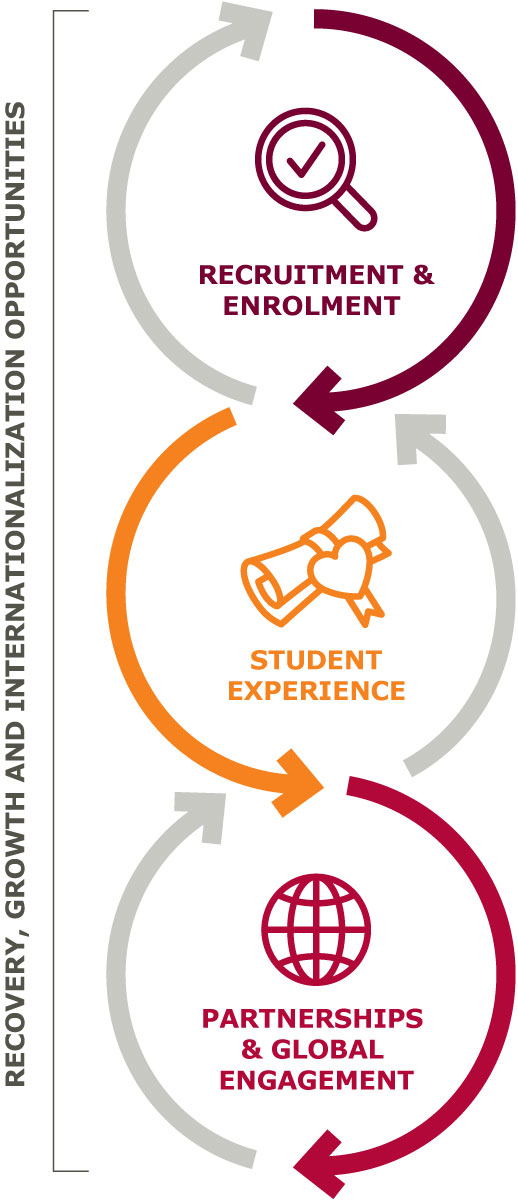 Recruitment & Enrolment
Our network crosses borders, oceans and cultures to ensure we have the perspective to attract international students from diverse backgrounds. Our outcomes are to diversify and grow our international student population and to seek alternative enrolment and global reach initiatives.
Student Experience
International students often need additional support as they adjust to new cultures, manage in a second language, navigate a new city and make new friends. Our outcomes are to provide a superior pre-arrival experience and transition support, develop engaging post-arrival experiences through settlement support and the Language & Culture Centre, and provide opportunities for international alumni engagement.
Partnerships & Global Engagement
Our international reach enables us to build dynamic partnerships and offer global learning experiences for students, faculty and staff.  Our outcomes are to develop new opportunities for partnership development and capacity for global competency and intercultural learning for students, faculty and staff. Our co-location strategy includes a range of pillars such as twinning pathways, global learning, summer programs, and more.
How to Get Involved
Comprehensive Internationalization depends on everyone's engagement and support to succeed! We look forward to working with the Mohawk and local communities and our global partners on our 5 year vision and will be reaching out along the journey for your action and input.
Have an idea? Reach out to us at international.ideas [at] mohawkcollege.ca
Hudzik, J. K. (2011). Comprehensive Internationalization: From concept to action. NAFSA.