Welcoming Communities Task Force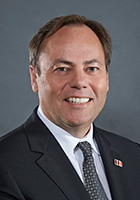 Immigration is expected to account for all of the future growth of Hamilton's population and workforce. As leaders in our community we have a shared interest in opening up the opportunities that will come when we can all benefit from the global influences and entrepreneurship that make this the hallmark of other successful cities.
As a College, Mohawk has committed to doubling our enrolment of international students. To do that Mohawk College will have to ensure that this diversity is supported in our student's experiences and in the connections that they have with Hamilton. 
When Mohawk College launched our Welcoming Communities Task Force initiative in 2015, we wanted to start a conversation about what it would take to make Hamilton and Mohawk a more welcoming place for newcomers. It's been a year since that conversation started and I'm delighted with the responses we've had from our partners in academia, industry and the community. 
It is hoped by both myself and the rest of my Task Force colleagues that these recommendations will be treated as a call to action for the academic community, our business leaders in Hamilton and for the city and its community partners. We would consider this a success if some or all of these recommendations led to new initiatives, strengthened partnerships and enhanced understanding and support for the benefits of global citizenship. I know that Mohawk College`s commitment to internationalization has only been amplified by this experience. 
I am grateful to our dedicated Task Force members. We have had challenging discussions and our leaders around the table invested significant time and energy in the Task Force activities. All of them did so because of a shared passion around these issues and sincere belief in the importance of these discussions. I want to thank them again for their efforts.  
I hope that all who read this report can find an insight that makes them think, or, even better, inspires them to act. 
On behalf of the Welcoming Communities Task Force 
Ron McKerlie 
Chair, Welcoming Communities Task Force 
President, Mohawk College
Reports and Recommendations