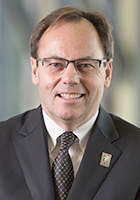 Ron McKerlie
President & CEO
Ron's Biography
Since 2014, Ron has served as President of Mohawk College and Mohawk College Foundation in Hamilton, Ontario.  Previously Ron served 10 years in the Ontario Public Service as Deputy Minister Open Government, Interim President of Ornge Air Ambulance, Deputy Minister, Government Services and, Corporate CIO and Chief Strategist for Ontario.
Prior to joining the Ontario Public Service, Ron's career spanned 25 years in the private sector where he held senior executive positions with Rogers Communications and Bank of Montreal.
Ron holds a Master of Business Administration degree from Dalhousie University, an ICD.D designation from Rotman, is a Fellow of the Institute of Canadian Bankers and a graduate of Harvard Business School's Advanced Management Program.
Mr. McKerlie is a member of the Board of Directors for ORION and former Chair of the Board for World Vision Canada.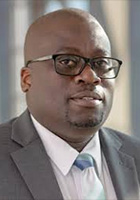 Cebert Adamson
Vice President, Academic
Cebert's Biography
Cebert Adamson is Vice President, Academic at Mohawk College where he provides strategic leadership for the academic division including development and implementation of all academic programming through the various Schools and Centers of Excellence including Applied Research and the Centre for Experiential Learning and Partnerships. Cebert along with his VP colleagues supports over 30,000 full time, part-time and apprenticeship students.

Cebert previously served in various roles at Mohawk including his recent position as Vice President Students, International and Alumni and Dean with responsibilities for the School of Continuing Education, Academic Quality, Library and Centre for Teaching and Learning. Prior to joining Mohawk College, Cebert served as Executive Director of the Council of Community Colleges of Jamaica, Human Resources Development Manager with the University of Technology, Jamaica, and various other educational administrative and faculty jobs.

Cebert holds a Doctorate of Education from William Howard Taft University, USA. He also has a Masters of Science – Teaching and Learning from Nova Southeastern University, USA and obtained his Bachelor's Degree in Business Education (Hons) and a Diploma in Business Education (Teacher Training Certification) from the College of Arts, Science and Technology (now University of Technology, Jamaica). Cebert is a current member of the Ontario Learn Board of Management.
Katie Burrows
Vice President, Students, International and Alumni
Katie Burrows Biography
Katie was appointed Vice President, Students, International and Alumni in July 2022. She oversees a dynamic portfolio that includes student services, registrarial functions, student life, marketing and recruitment, international, and alumni. The division supports the out-of-the-classroom experience of over 30,000 full-time and part-time post-secondary, Continuing Education, and apprenticeship students. Katie joined Mohawk College in 2011 as the Manager of the New Canadian and International Student Services team. She brings more than 20 years of post-secondary experience at both the college and university levels. Previous to Mohawk, Katie worked for nine years at the Rotman School of Management at the University of Toronto. Since arriving at Mohawk College, Katie has held a number of positions including Registrar and Senior Director, Strategic Enrolment Management; Director, Service Integration and International; Director, Indigenous Education and Student Services; and Director, President's Office. Katie holds an Honours Bachelor of Arts in Linguistics (English and French) from University of Toronto and a Master's degree in Education from Queen's University. Katie and her family are proud to call Hamilton home.
Paul Armstrong
Chief Operating Officer
Paul's Biography
Paul Armstrong was appointed as Chief Operating Officer for Mohawk College in April 2020 after serving as the Vice President Academic since September 2016. Paul leads the academic, student and corporate services divisions who collectively are responsible for educating and supporting over 30,000 full-time, part-time and apprenticeship students at three main campus locations and multiple learning hubs embedded in various locations in our community. Paul had previously served as Mohawk's Dean of Health Sciences, Community and Urban Studies for nine years. Paul was also Director of Academic Relations, Chair of Health Sciences and Human Services and a Professor in the College's Department of Medical Imaging.

Paul has made Mohawk a leader in simulation-based learning and has maintained strong relationships with educational partners at McMaster University and Six Nations Polytechnic. Paul led the successful repatriation of Community and Urban Studies programs to Mohawk's Fennell Campus and has been instrumental in developing and launching many major collaborative and cross-functional strategic projects including a partnership that led to the construction of a new state of the art Aviation Education and Research Centre located at the Hamilton International Airport.

Paul holds a Master of Business Administration from Queen's University and diplomas in Medical Diagnostic Ultrasound and Radiological Technology from Mohawk College.

Paul's career achievements and extensive community contributions were recognized with a Mohawk Alumni of Distinction Award in 2013.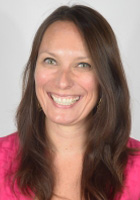 Trish Loomis
Executive Director, Office of the President
Trish's Biography
Trish joined Mohawk College in 2011 as part of the Special Events team. In 2014, she moved into the role of Director, Office of the President. Trish oversees the operations and administration of the President's Office. She supports the President in the development of cooperative relationships both internally and externally. In March 2020, Trish's role expanded to include the public affairs, corporate communications and government relations portfolios. She also oversees the Special Events team and Conference Services, including the operations of the McIntyre Performing Arts Centre.
Trish has worked in the education environment at various institutions, including University of Waterloo, Old Dominion University and American University. Her strengths have always been logistical coordination and relationship building. She was able to hone these skills while working at the Embassy of Canada in Washington, DC.
Trish holds a B.A. in Drama and Speech Communications from the University of Waterloo and an M Ed. in Higher Education Administration from the College of William and Mary, in Williamsburg, VA. She is a Board Member for the Hamilton Philharmonic Orchestra. She is proud to raise her family in her hometown.
Lorna Somers
Executive Director, Mohawk College Foundation 
Lorna's Biography
Lorna Somers joined Mohawk College Foundation as Executive Director in August 2022.  She is recognized internationally as a teacher and facilitator in the fields of Higher Education and Institutional Advancement, speaking at educational, cultural and charitable organizations around the world. As an accomplished and successful fundraiser, engaged in securing some of the largest charitable gifts in Canadian history, before joining Mohawk, she spent the 35 years at McMaster University, most recently in the roles of AVP, Development and Campaign Director.
From the introduction and growth of foundational programs such as Planned Giving and the Annual Fund, to the establishment of Major and Principal Giving and the introduction of recognition and stewardship programs, Somers also facilitates strategic planning, vision and case development, and team-building.
Campaign Director for two university-wide, comprehensive campaigns, both with a focus on volunteer and academic participation, Somers has also structured and led targeted campaigns for the Museum of Art, Faculty of Health Sciences, the Student Centre, and secured support for innumerable endowments establishing scholarships, bursaries, chairs, and professorships.
Deeply committed to encouraging and supporting both a campus-wide and a national culture and awareness of philanthropy, Somers and co-author Dr. Frank Minton have written the definitive Canadian fundraising text "Planned Giving for Canadians". Her volunteer leadership has been extensive and global with a three decade commitment to CCAE (Canadian Council for the Advancement of Education), CASE (Council for the Advancement and Support of Education), and CAGP (Canadian Association of Gift Planners). Her contributions have included various volunteer roles as national and regional chair, conference chair,  Board Trustee, Director, special advisor, and CASE Laureate.
Somers is the recipient of numerous international awards for excellence in teaching and leadership.  In addition to speaking on philanthropy, fundraising, and storytelling and presentation skills, Somers is a sought after speaker and coach on business, social and dining etiquette frequently working with students to improve their confidence and knowledge as they launch their careers.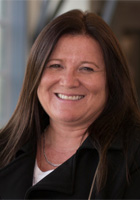 Kim Watkins
Vice President, Corporate Services
Kim's Biography
Kim Watkins was appointed Vice President Corporate Services in December 2020. She oversees a dynamic portfolio that includes information technology, human resources, facilities, finance and ancillary services.
 
Kim joined Mohawk as the college's Chief Financial Officer, and Treasurer of Mohawk College Foundation in July 2016. She has also served as Interim Chief Information Officer and Acting Chief Human Resources Officer. Prior to joining Mohawk, she was the Director of Finance and Controller at Canadore College in North Bay, Ontario where she provided financial leadership to the college and Canadore College Foundation for 12 years. Previous to this, she worked as the Manager of Corporate Services at North Bay Hydro Distribution and as a senior accountant at KPMG.

A Certified Professional Accountant, Kim holds an MBA from Laurentian University, a risk management certificate from the University of Toronto, and recently completed a Certificate in Human Resources Management.

Kim currently serves as a Trustee on the CAAT Pension Plan Board and is a member of the Customer Council at the OECM.