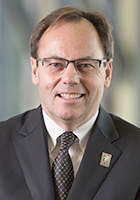 Ron McKerlie
President
Ron's Biography
Ron is currently President of Mohawk College and Mohawk College Foundation in Hamilton, Ontario. Previously Ron served 10 years in the Ontario Public Service as Deputy Minister Open Government, Interim President of Ornge Air Ambulance, Deputy Minister, Government Services and, Corporate CIO and Chief Strategist for Ontario.
Prior to joining the Ontario Public Service, Ron's career spanned 25 years in the private sector where he held senior executive positions with Rogers Communications and Bank of Montreal.
Ron holds a Master's of Business Administration degree from Dalhousie University, an ICD.D designation from Rotman, is a Fellow of the Institute of Canadian Bankers and a graduate of Harvard Business School's Advanced Management Program.
Mr. McKerlie is the Chair of the Board for World Vision Canada and a member of the Board for World Vision International. Ron and his wife Lynn live in Burlington, Ontario.
Paul Armstrong
Vice President, Academic
Paul's Biography
Paul Armstrong was appointed Vice President Academic for Mohawk College in September 2016. Paul leads a team of faculty and staff in educating 30,000 full-time, part-time and apprenticeship students at three campuses.
Paul had previously served as Mohawk's Dean of Health Sciences, Community and Urban Studies for nine years. Paul was also Director of Academic Relations, Chair of Health Sciences and Human Services and a Professor in the College's Department of Medical Imaging.
Paul has made Mohawk a leader in simulation-based learning and has maintained strong relationships with educational partners at McMaster University and Six Nations Polytechnic. Paul led the successful repatriation of Community and Urban Studies programs to Mohawk's Fennell Campus and has been instrumental in developing and launching new programs to respond to the needs of students and employers.
Paul holds a Master of Business Administration from Queen's University and diplomas in Medical Diagnostic Ultrasound and Radiological Technology from Mohawk College.
Paul's career achievements and extensive community contributions were recognized with a Mohawk Alumni of Distinction Award in 2013.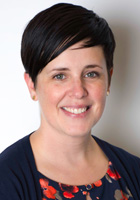 Katie Burrows
Director, Development
Katie's Biography
Katie provides leadership to Mohawk College Foundation, which works to create lifelong connections with our students, alumni, partners and communities. Mohawk College Foundation directly supports Mohawk students through scholarships and bursaries, initiatives such as City School by Mohawk and Campus to Community, and in-kind donations that enhance experiential learning.
Katie joined Mohawk College in 2011 as the Manager of the New Canadian and International Student Services team. She has worked in education for 16 years; previous to Mohawk, Katie worked for nine years at the University of Toronto, within the Rotman School of Management's Executive and MBA programs.
Since arriving at Mohawk College, Katie has held a number of positions including Director, Service Integration and International; Interim Director, Aboriginal Education and Student Services; Registrar; and Director, President's Office. Katie has an Honours Bachelor of Arts in Linguistics (French and English) from the University of Toronto, and is nearing completion on her Masters of Education at Queen's University.
Katie and her family are proud to call Hamilton home.
Hillary Dawson
Associate Vice President, Public Affairs, Marketing and Strategic Initiatives
Hillary's Biography
Hillary Dawson joined Mohawk College in January of 2015 bringing 25 years of public policy, strategic communications and government relations experience to her work at Mohawk College.
Hillary has a significant track record of helping organizations develop the vision, directions and strategies required to generate effective relationship management initiatives, influence public policy and build positive corporate reputation. Before returning to a private public affairs practice, Hillary spent many years as President and COO of the Wine Council of Ontario helping its members advance a strong domestic wine industry. There she led the transition and re-engineering of the goals and focus of the organization while at the same time driving significant growth and public policy results for the organizations members. While managing significant relationships with key stakeholders at the LCBO, producer partners and academic, community and economic development sectors, she was able to develop the framework and bring to a successful conclusion several significant partnerships with government for the sector.
Prior to joining the Wine Council, Hillary was a Principal and Vice-President in one of Canada's most influential government relations firms. There her practice focus was on developing advocacy and organizational capacity for associations, municipalities, Fortune 500 firms, post-secondary institutions and other public and private sector interests.
Active politically, Hillary has also worked at the Legislative Assembly of Ontario and was Director of Political Organization for the Ontario Liberal Party.
Hillary has served on many Boards and Committees including the Ontario Culinary Tourism Alliance, The Tourism Partnership of Niagara, the Alliance of Ontario Food Processors and the Hamilton Burlington Brantford YMCA.
Hillary has a BA (Hons) from Queen's University in Economics and Political Studies and has completed the Ivey Influence and Persuasion Program from the Ivey School of Business, University of Western Ontario.
Hillary and her family love living in Hamilton.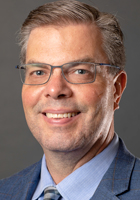 Tom Ferns
General Counsel and Corporate Secretary
Tom's Biography
Tom Ferns joined Mohawk College in March 2015 as General Counsel and Corporate Secretary.
Between 1999 and 2015, Tom worked in the steel industry as legal counsel and in government relations and communications, prior to which he practiced corporate law in Hamilton, Kitchener and Toronto. He is a member of the Bar in Ontario and Massachusetts.
Tom is Chair of the Board of Mission Services of Hamilton, and a member of the regimental Senate of the Argyll and Sutherland Highlanders of Canada. In 2014, he received a Volunteer Service Award from the Ontario Ministry of Citizenship and Immigration for commitment and dedication as a community volunteer.
Tom holds a B.A. from Queen's University, and an M.A. and J.D. from the University of Toronto. He grew up in Dundas and lives in Waterdown.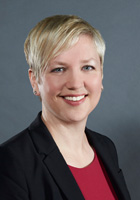 Alison Horton
Vice President, Corporate Services
Alison's Biography
Alison Horton was appointed to the position of Vice President Corporate Services in July 2018 and oversees a dynamic portfolio that includes information technology, human resources, facilities, finance and ancillary services.
Alison began her career at Mohawk in 2004 as a faculty member in the School of Humanities and Social Sciences and later served as Program Coordinator for both the General Arts and Sciences and Pre-Health programs at Mohawk's Brantford campus. Alison became Associate Dean of the School of Humanities and Social Services in 2011 and most recently was the Dean of the McKeil School of Business, Media & Entertainment, and Continuing Education.
Over the course of her career, Alison has led initiatives focused on academic quality, pathways and student success. She has developed new programs for diverse learners and contributed to the establishment of academic, community and industry based partnerships at Mohawk.
A lifelong learner, Alison holds a Bachelor's degree in Political Science from the University of Waterloo and a Master's degree in Political Science from the University of Guelph. She is thrilled to also be able to contribute to the Hamilton community through her role as a board member for both the Hamilton Chamber of Commerce and YWCA Hamilton.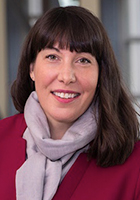 Meg Houghton
Associate Vice President, Student Services
Meg's Biography
Meg Houghton joined Mohawk College in April 2019. Meg brings 19 years of experience leading student affairs departments in enhancing student support and strategic enrolment management efforts to role of Associate Vice President, Student Services.
Motivated by a deep commitment to social mobility, Meg is passionate about strengthening pathways to graduation for Ontario college students. She is also a champion for student equity and inclusion and has served in strategic and direct roles that have helped to reduce barriers to academic success for vulnerable students.
Prior to joining Mohawk, Meg served as Acting Dean of Students and Associate Dean of Student Wellness and Equity at Humber College in Toronto, Ontario. At Humber, she oversaw a team of more than 500 full and part-time professionals supporting athletics and recreation, residence, testing services, advising and career services, academic support services, counselling and accessible learning, diversity, sexual violence prevention and more.
Provincially, Meg is a trusted student affairs professional. She served as an advisor for the Centre for Innovation in Campus Mental Health, for curriculum development at Ontario Institute for Studies in Education, and for the postsecondary implementation of Bill 132 on Sexual Violence and Harassment.
A former three-sport varsity athlete and Sociology instructor, Meg holds a Bachelor of Arts in Wellness Program Administration and a Masters in Applied Human Sciences, Student Affairs in Higher Education.
Trish Loomis
Director, Office of the President
Trish's Biography
Trish joined Mohawk College in 2011 as part of the Special Events team. In 2014, she moved into the role of Director, Office of the President. Trish's over sees the operations of the President's Office. She supports the President in the development of cooperative relationships both internally and externally. She over sees the Special Events team for the college and works closely with public affairs to coordinate communications coming out of the President's Office.
Trish has worked in the education environment at various institutions, including University of Waterloo, Old Dominion University and American University. Her strengths have always been logistical coordination and relationship building. She was able to hone these skills while working at the Embassy of Canada in Washington, DC. She specialized in event coordination while at the embassy and was instrumental in coordinating the inaugural "All Politics is Local" event which brought Canadian businesses to Capitol Hill.
Trish holds a B.A. in Drama and Speech Communications from the University of Waterloo and an M Ed. in Higher Education Administration from the College of William and Mary, in Williamsburg, VA. She is a Hamilton native who is proud to raise her family in her hometown.