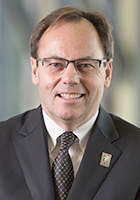 Ron McKerlie
Ron is currently President of Mohawk College and Mohawk College Foundation in Hamilton, Ontario. Previously Ron served 10 years in the Ontario Public Service as Deputy Minister Open Government, Interim President of Ornge Air Ambulance, Deputy Minister, Government Services and, Corporate CIO and Chief Strategist for Ontario.
Prior to joining the Ontario Public Service, Ron's career spanned 25 years in the private sector where he held senior executive positions with Rogers Communications and Bank of Montreal.
Ron holds a Master's of Business Administration degree from Dalhousie University, an ICD.D designation from Rotman, is a Fellow of the Institute of Canadian Bankers and a graduate of Harvard Business School's Advanced Management Program.
Mr. McKerlie is the past Chair of the Board for World Vision Canada and a member of the Board for World Vision International. Ron and his wife Lynn live in Burlington, Ontario.
Follow Ron on Twitter
President of Mohawk College and Foundation, husband, father and grand-father, avid traveler, voracious reader and observer of humanity.