Interest and repayment
While you are only required to begin paying back your student loans six months after you graduate or stop being a full-time student, interest begins accumulating on the Ontario portion of your loan as soon as you graduate or leave school.

Between April 1, 2021, and March 31, 2023, Canada will not be charging interest on the federal portion of an OSAP loan.

Repayment consists of a monthly payment towards your loan, plus payment of interest charges that are added to your loan balance. You are encouraged to consider accelerated payment plans where possible to reduce the interest accumulated on the loan and pay back balances faster.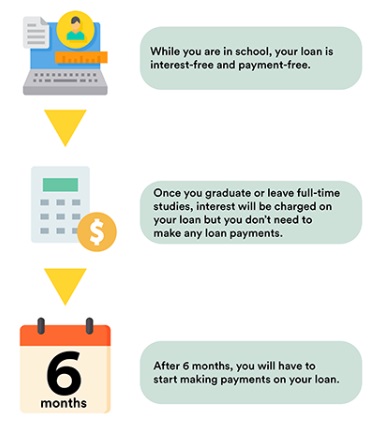 Keep your loans interest-free
There may be instances when you need OSAP one year, but not the next. For example, if you applied for and received OSAP in your first year of studies and decide you don't need any financial aid for your second year, you don't have to apply.

If you decide to continue full-time studies without applying for OSAP, you must complete a Continuation of Interest-Free Status application to make sure your loans don't become repayable while you're in school. You can find this application online when you log into your OSAP account.
It is important to confirm your enrolment every year that you are in studies to maintain your interest-free status.

If you're not continuing in full-time studies, you may need to start paying back your OSAP. Within six months after you graduate or leave full-time studies, you will receive a package from the NSLSC with information about repaying your loan.
Learn about loan default
If you don't make your loan payments after you leave full-time studies, you will be in default.

A loan from OSAP is considered "in default" when no payments have been made for 270 days.

Being in default means:
Your debt will be turned over to a collection agency
You will be reported to a credit bureau
You could be ineligible for further OSAP until the default is cleared
Your ability to get a car loan, mortgage or credit card may be affected
Your income tax refund and HST rebate can be withheld
Interest will continue to build up on the unpaid balance of your loan
Your OSAP debt will only be erased when you have paid it off in full.

Repayment of student loans is an excellent way to establish and improve your credit score!
 
How to repay your student debt
You have six months after you graduate or leave full-time studies before you need to start repaying your OSAP loan. This is your 6-month grace period.
You start to repay your loan at the end of the 7th month after you leave school.
Pay Back your OSAP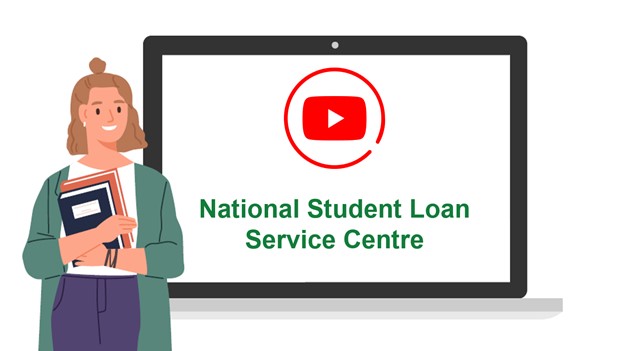 The National Student Loans Service Centre (NSLSC) is the 'banker' for your OSAP loans. Once OSAP authorizes your funding, the NSLSC disburses the funds. You will make payments to the NSLSC once you cease to be a full-time student.
For complete information about your loans, please go to the NSLSC website. You can set up an account with the NSLSC and track your loans. 
Contact information for the NSLSC:
The National Student Loans Service Centre
P.O. Box 4030
Mississauga, ON L5A 4M4
Phone 1-888-815-4514
Resources:
Follow the NSLSC's Twitter Page 
National Student Loans Service Centre
Watch the NSLSC's On-Demand OSAP Repayment Webinar
Repayment Handout for Students (PDF, 206kb)