Call Controls in Skype for Business
How do I make a voice call to a person in my contact list?
Click the user picture or status indicator of the person you wish to call.
Click the Call Button.
How do I make a voice call to an external number?
Click the Phone tab to bring up the dial pad.

In the search box above the dial pad, type in the number you wish to call.

Click the Call button.
How do I transfer a call?
In the call window, click the Call Controls icon.

Click the Transfer button.

Enter the name or extension of the person you wish to transfer to, then select them from the list. Click Transfer to send the call to them.

How do I forward my calls?
When using call forward, be aware that
Your phone will never ring when call forwarding is turned on.
If you are forwarding your calls to another employee, unanswered calls will not be sent back to your voicemail. They will go to the voicemail of the person receiving the call.
Your desk phone and Skype for Business will show Call Forwarding On at the bottom of the screen.

See call forwarding and simultaneous ring⤻ instruction from Microsoft
How do I delegate my calls to another person?
Contact List Management
How do I search the corporate directory?
The search box is found at the top of the contact list and phone tab. Type in a name to search the corporate directory for any Mohawk employee.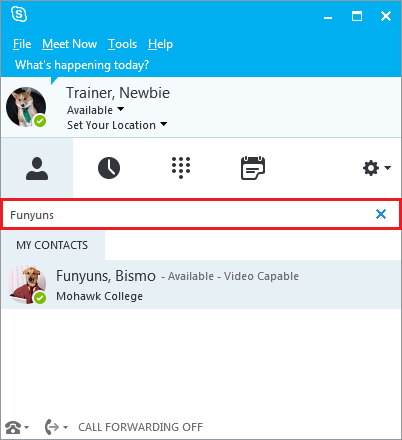 How do I create a contact list group?
Click the Contact List tab.
Below the search box on the right side of the Skype window, click the Add Contacts icon.

Click Create New Group.
Type in a name for your group and press enter.

How do I add someone to my contact list?
Search for a person you wish to add to your contact list.

When they appear in the search results, click on their user picture to bring up the interaction menu.

Click the additional options ... icon, then click Add to Contacts List. Select the group you wish to add them to.

You can reorganize your contacts by clicking and dragging their name between groups.
Instant Messaging
How do I start a chat conversation?
Open a conversation window by double clicking someone's name in your contact list or in the directory search.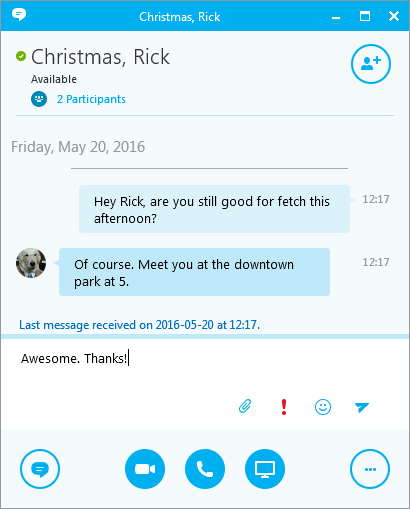 How do I add participants to create a group chat?
In the conversation window, click Invite More People.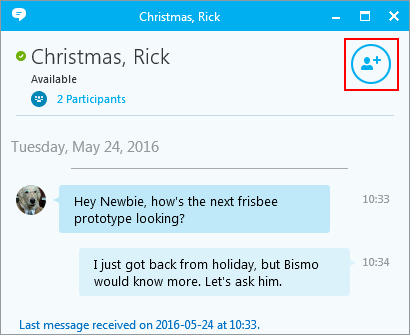 Choose a name from your contact list, or search for the person you wish to add. Click to select their name, then click OK.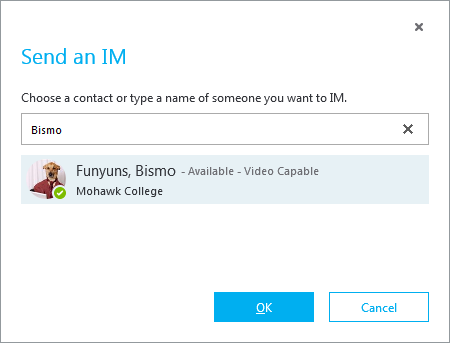 When you add someone to a conversation, they will receive a pop-up notification to accept the request.
Where can I find past chat conversation?
Chat histories are stored in Outlook in the Conversation History folder.