Classroom Cabinet key
You must have a Smart Key to unlock the cabinet. Speak to your manager to request an individual key from your department.
Turning On the Classroom Cabinet Equipment
Open cabinet with the Smart Key. The audio equipment will power up automatically.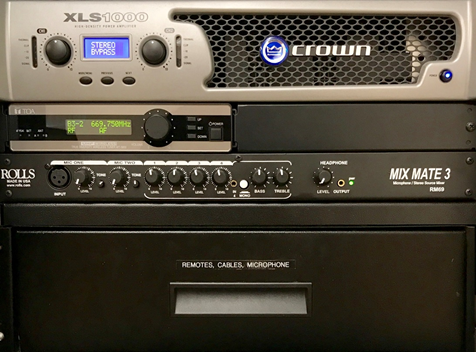 Audio system parts from top to bottom
Amplifier
Microphone receiver
Mixer
Storage drawer
Computer Login
Press the power button on the all-in-one computer located on the Podium.
Press Ctrl+Alt+Delete keys to access the login screen.
Log in using your MohawkID and password
Document Camera
The document camera will display any item including transparencies (with white paper placed underneath) that you place under the camera lens.
To use the document camera: turn document camera on, then press the camera button on podium's panel.
ELPDC12 Document Camera - The power button can be found on the top of the base of the unit.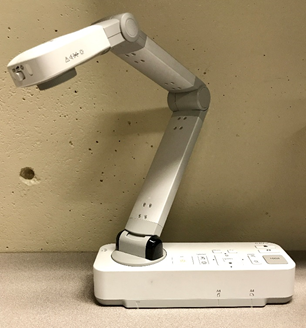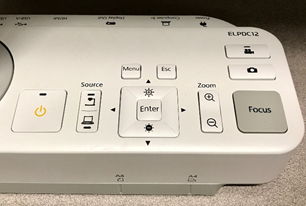 DC-10s Document Camera - The power button can be found on the side of the base of the unit.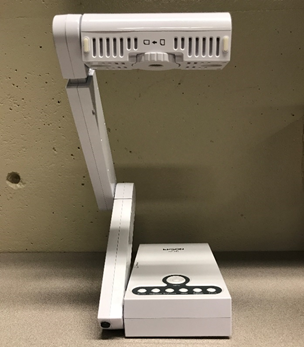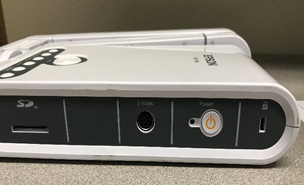 Projector Remotes and Podium Panel
Make sure you have the correct remote for your projector. The remote colour and projector colour must match in order to work
Use the Source Search button (shown in red) to select HDMI.
The projector remote can also control volume (show in blue). Recommended level is 10.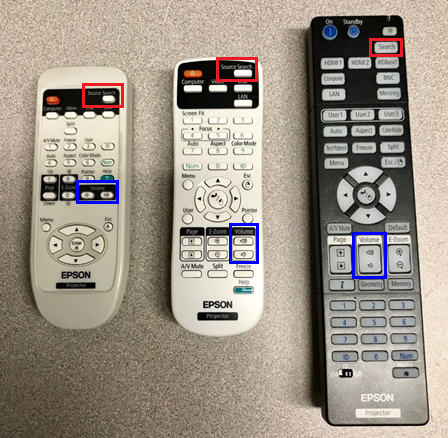 The podium panel has a touch panel that allows you to choose the device you want to show on the projector.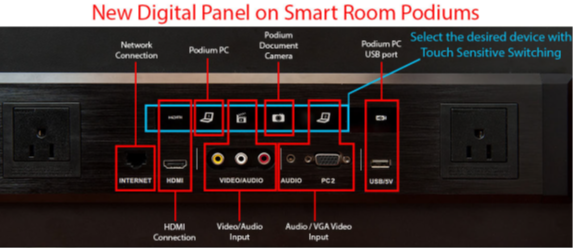 Controlling Sound Volume
With the cabinet door kept open, volume can be adjusted using the dials on the mixer (shown in red).
Microphone is adjusted using the MIC ONE control.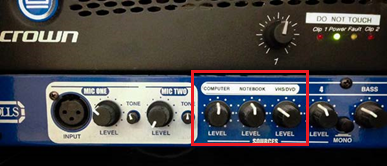 Cables and Other Components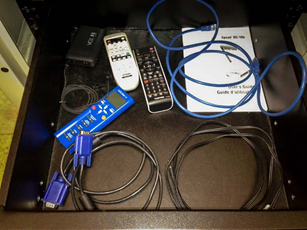 The cabinet drawer should contain the following:
Network cable
VGA cable
Audio cable
HDMI cable
Projector remote
If any items are missing, report it to the IT Service Desk at 2199 or 905-575-2199.
Using Laptops with the Podium
It is recommended that you bring your own audio, video and network cables to each class. You may also need the laptop power cable. Plug cables into appropriate ports on laptop and podium.
Shutting Down the Classroom
When your class is over:
Log off or restart the computer.
On white projector remotes, press the red button twice to turn off.
On black projectors press the "Standby" button twice to turn off.
Place remote back into into the cabinet drawer, along with any other items which may have been used.
Close and lock cabinet when finished.
Classroom Equipment Support
If you have any problems, call the IT Service Desk at 2199 option 1 as soon as possible.
Please report all problems, whether they affect your particular class or not, so the next faculty member will be able to instruct.
Please shut down all equipment and return remotes/cables etc. to the cabinet drawer. Ensure the cabinet is locked and retrieve your key prior to leaving the classroom.
Do not remove any equipment or components from the classroom.