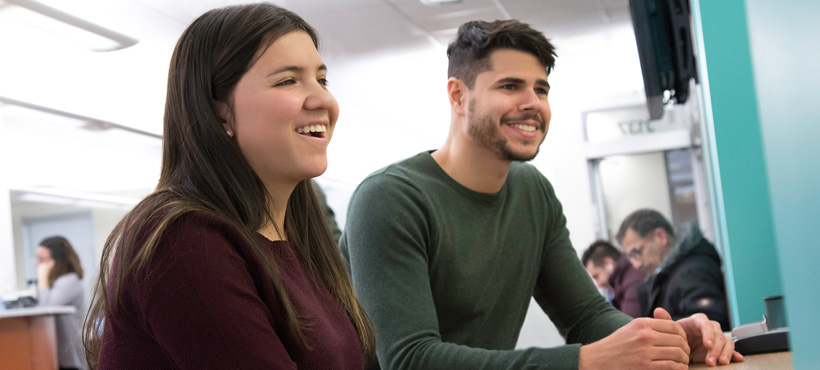 Mohawk College provides various methods of payment for students' convenience. Choose one of the options below to make secure payments to Mohawk College.
International Payments / Payment from outside Canada
Mohawk College has partnered with Flywire to offer an innovative and streamlined way to make a payment from accounts outside of Canada. Founded by a former international student, Flywire's mission is to save money for international students and their families that would otherwise be lost on bank fees and unfavourable foreign exchange rates.
HOW TO MAKE A PAYMENT:

Select what fees you want to pay between application fee and tuition fee. Then select your preferred payment method from the options provided. Options may include bank transfer, debit/credit card in your home currency, electronic payment, or other local options.
Create your account or log into your existing Flywire account, then enter some basic information to initiate your payment booking.
Follow the instructions provided to send funds to Flywire. For bank transfers, follow the instructions provided to send your funds. Depending on your bank, payment may be made online, in person, or over the phone. For debit/ credit card payments, enter your card details online to complete your payment in your home currency.
Track your payment by logging into your Flywire account at any time. Receive text and email status updates each step of the way, including a confirmation when your payment has been delivered to Mohawk College.
Flywire instruction download PDF
FLYWIRE CUSTOMER SUPPORT INFORMATION
Toll-Free: 1-800-346-9252
Email: Support [at] Flywire.com
Web: https://www.Flywire.com/help
No matter the time zone, you have a dedicated multilingual customer support team available via live chat, email and phone.
In-Country Payments / Payment from inside Canada
By Post: Send an International Money Order, Bank Draft or Certified Cheque made payable to "Mohawk College" by mail to:
Mohawk College
International Education Services (J107)
135 Fennell Avenue West
Hamilton, Ontario
Canada L9C 0E5

 
By Credit Card (Visa or MasterCard): Send a fax (1-905-575-2362) with the filled and signed credit card payment form. Please include the following information:
The student's name and application/student number (or date of birth),
The cardholder's name and signature,
The card number and expiry date; and
The amount we are to charge to the account.
In person: Bring cash, certified cheque, debit card, Mastercard, or VISA with your Fee Statement to International Square, Fennell (J137)
Additional methods for returning students only:
Online: Through MyMohawk
Electronic Banking: Take the SBID number (which you can find on your fee statement) to your banking institution. Allow 5-7 business days for this payment method to be processed.