Vice President & Dean's Welcome & Staffing Update
Read a Welcome from the new Vice President, SIA and Dean of International & Partnerships, and learn about staffing updates.
Return to Newsletter homepage
Greetings from New Vice President, Students, International & Alumni, Katie Burrows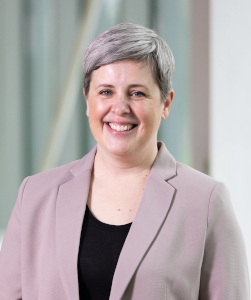 I am simply delighted to be the new Vice President, Students, International, and Alumni. Mohawk College is a special place, and I feel privileged to be in this position and have the opportunity to work with the teams in this division and across the College.

I also know that we are at a pivotal time in the college's story. We have weathered the worst of the pandemic, and have seen the effects of border closures and remote learning on our international applicants and students.
 
We have an opportunity now to welcome more international students to all of our campuses, to further enhance our support frameworks across the student journey, and to build global engagement across the College for all students, staff, and faculty in the development of future ready global citizens. There are exciting initiatives on the horizon, some of which are highlighted in this newsletter. All of them point to a focus on improving applicants' and students' experiences, supporting international students, no matter where they are on the student journey. We are building opportunities to engage all our learners in intercultural and global development while instilling the value of diversity and inclusion.
 
Internationalization across the college has been, and continues to be, critical. Making Mohawk an even more welcoming place for international students to study will contribute to their success and happiness. These efforts will also enhance our reputation as a destination of choice, creating more hopeful Mohawk students. And instilling our college with diverse perspectives provides all students and staff opportunities for intercultural growth and development in our global society.
 
I know it's been a tough few years. We've navigated working from home; the stress of a pandemic; perhaps trying to educate our kids while also trying to work (this is something I personally never want to experience again); workplace changes; possibly illness or other challenges, divisional re-organization, etc. There are likely other changes, big and small, that we have experienced as well.
 
Throughout this time, I have found strength in, and relied on, my colleagues more than ever, and have felt the cohesion grow as a result of these shared experiences. I hope you have had a similar experience. And I hope that the challenges have resulted in a stronger team, that continues to thrive and change and grow. The future is so bright for International and Partnerships, and I am grateful to get to be a part of that. And I'm looking forward to working with all our colleagues across the college as well as those at home and abroad to build opportunities for access to a Mohawk education around the world, and to offering rich and robust global learning experiences for all of our learners.
Greetings from Dean, International & Partnerships, Anuraj Bajwa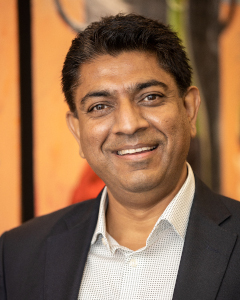 Excited, stressed, anxious, hopeful, nervous, cautious, relieved, worried, fearful, happy, are only some words students have used to describe their state of mind as they continue to return to in-person classes at campuses across the globe. Since the first wave of COVID-19, millions of students' lives have changed drastically. Key studies and surveys originating from a number of international higher education destination countries, indicate that the changes wrought by the pandemic have impacted the mental health of international students creating increased stress, uncertainty about the future, social disconnects, and financial hardships. These challenges are amplified for international students who are trying to make a life away from the comfort and support of their families, in a completely new country.  
 
A pre-pandemic report entitled Impact of Accommodation Environments on Student Mental Health and Wellbeing highlights the importance of the physical environment and living space for students – essential elements in creating a sense of belonging and enabling students to take on the risks and challenges of higher education. Newly released survey results from the Canadian Bureau for International Education (CBIE) indicate that destination countries are increasingly struggling to secure sufficient housing for international students, and that Canada is no exception; accommodation challenges as well as 'help they receive from school staff' represent the major pre- / post-arrival frustration for students coming to Canada. (Read more about the survey results in this newsletter.)
If ever there was a time for higher education institutions to reassess how they support international students, it is now. Faculty, students, and staff have done an excellent job pivoting to virtual/online teaching and learning and moving services online. With more and more programs getting back to in-person delivery, institutions are now preparing for what returning to some kind of pre-COVID normal may look like.

In the midst of these challenging times, and after a year of research and numerous rounds of internal and external stakeholder engagement opportunities, the International & Partnerships team launched our new 2022-27 Strategic Plan. Our Plan is appropriately titled "Global PURSUIT" (an acronym for: Partnerships, Unified Vision, Reach, Student Focus, Uncharted Territories, Interdisciplinary, Transcending Borders) and is driven by 13 important and exciting initiatives highlighted in this newsletter. 
Studies like the ones just mentioned as well as feedback from international students and alumni have been instrumental in the development of our goals and objectives. Our Plan focuses on peer to peer communication and support, student engagement, pre-arrival and transition support, and especially housing supports as well as global engagement opportunities for the entire Mohawk College community.   As well, the 13 initiatives are influenced by the philosophy of 'Kaizen' which highlights our team's commitment to 'continuous improvement.' This philosophy flows through all our initiatives – from creating opportunities for applicants from diverse markets to study in Canada, to continuing to improve the applicant and student experience, to providing faculty and staff opportunities to engage in intercultural and global learning and transform the learner experience. We are proud to present our plan in this newsletter and invite you to read more about it within these pages and reach out with any ideas and feedback.
We're excited to engage all our campus and community stakeholders in efforts to support our international students to thrive and succeed and to promote comprehensive internationalization.
International & Partnerships Department 2022-2027 Strategic Plan
The International & Partnerships department is excited to launch its 2022-2027 Strategic Plan! The Plan comprises 3 pillars that will guide and focus our work over the coming 5 years: Recruitment & Enrolment, Student Experience and Partnerships & Global Engagement, aligned under our purpose which is to enable a welcoming and globally engaged community for our students, staff and faculty to meet their potential.
Within the pillars, we've identified 13 key initiatives that will drive our efforts toward enrolment growth, student support in their hassle-free transition, partnerships and comprehensive campus internationalization opportunities. We look forward to engaging our colleagues and partners at Mohawk, in the community and around the world to achieve the goals of our Plan and our vision of a welcoming, inclusive and globally-minded society. Please explore our 13 key initiatives below.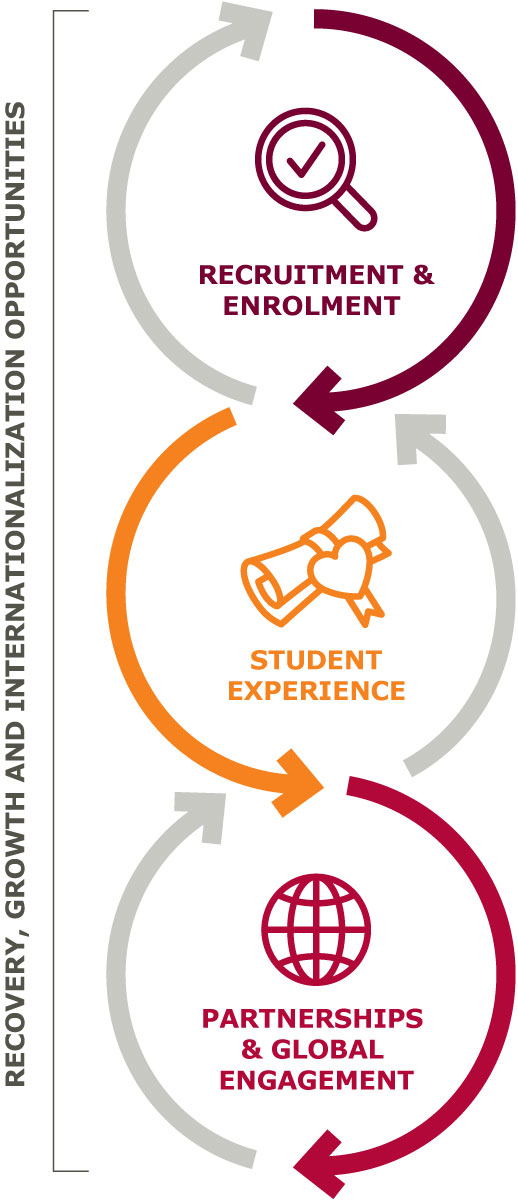 Recruitment & Enrolment
1. Diversification of international student population: Diversify the student population to expand diversity within programs/classrooms and develop opportunities for global/cultural learning and engagement; Participate in the WITT (Women in Trades & Technology) initiative to further engage international students in this sector; Recommend new academic programs to support diversification of program offerings and positively impact diversification of the international student community
2. Global reach: Consolidate presence with in-market resources in 10 key markets
3. Online overseas: Offer online courses to applicants outside Canada
4. Summer programs: Develop short-term inbound and outbound summer programs
5. English prep programs: Offer English prep programs to international audience
6. Buddy program: Launch Unibuddy student conversion and support platform
 
Student Experience
7. Soft landing: Bolster pre-arrival and arrival transition supports including housing support
8. Discover your world: Enhance international student engagement in LCC initiatives/events; Foster engagement in LCC volunteer program; Increase diversity of cultural celebrations
9. Keep close connections: Develop international alumni engagement strategies; develop programs to impact their communication and relations with new international students, shared experience and learning
10. Buddy program: Develop programs to engage new applicants/students with current students; Grow LCC ambassador program
 
Partnerships & Global Engagement
11. Global footprint: Develop new international partnerships within the "Co-Location Strategy" in top 10 source countries; Consolidate existing partnerships while expanding key pillars; Create greater visibility and branding in key markets; Impact enrolment growth through twinning pathways and develop additional revenue streams
12. Global mobility: Expand student and faculty mobility through global learning/global experience programs
13. Global learning@home: Continue to advance global learning outcomes through "Internationalization of the Curriculum" initiatives.
---
Staffing Updates
Nicteha Rico Arellano, International Program Support Assistant
As of May 24th, Nicteha Rico is the new International Program Support Assistant. Nicteha joined the Operations Team to assist in academic operations pertaining to our partnership activity with the Mississauga campus. Nicteha is a Mohawk International Alumna and has a strong background in social media management, design, digital marketing, and events, including working at Mohawk as a Digital Content & Engagement Curator and volunteering in Student Life.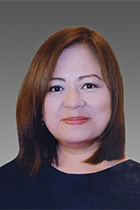 Raquel Cayco, International Agent Management Coordinator
Raquel Cayco joined the Operations Team as International Agent Management Coordinator role in April. Raquel previously managed international marketing and communications at George Brown College and marketing communications at Bell Canada. Her expertise and thoughtful strategic leadership skills are a great asset to our department.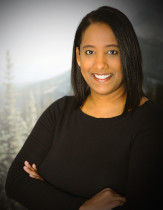 Kimberly Deonanan, LCC Global Learning Support
Kimberly Deonanan took on the role of LCC Global Learning Support in June. Previously working as Student Arrivals Coordinator, Kimberly made valuable contributions to the team by supporting arriving international students while ensuring the College adhered to the government's Designated Learning Institute (DLI) and travel related requirements for international students. In her new role, Kimberly will be working with the LCC team on cultural events and activities and supporting global engagement initiatives such as inbound and outbound global mobility.
Mariana Hormooz, Administrative & Purchasing Officer
On June 1st, Mariana started in her new role as Administrative & Purchasing Officer with the Operations Team. Mariana has a strong background in economics, business, and computer systems. A graduate of Mohawk College and Brock University, Mariana has been providing support to the School of Business and School of Health & Community Services for the past two years. Her wealth of knowledge in college operations will greatly benefit the department.
Jenn Horwath, Academic Coordinator
From June 2022 to March 2023, Jenn Horwath, Academic Coordinator, will be working in a secondment role in the Library for 50% of her time, managing the Page 1+ Collaborative Library Services Platform project. She will continue her role in International, coordinating global engagement and mobility projects and working closely with the International Faculty Leads.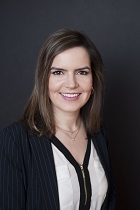 Andreia Compagnoni Lubini, LCC and International Coordinator
Andreia Compagnoni Lubini will be acting as LCC and International Coordinator for the next year as Ola Salah has accepted a contract position with IDEAWORKS. Previously the LCC Student Engagement Officer, Andreia will now be coordinating marketing and communication for the LCC as well as Mohawk International's new student pre-arrival strategy.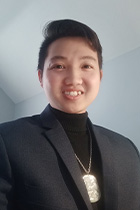 James (Tam) Ly, Market Specialist - Southeast Asia
In the spring, James (Tam) Ly joined the Market Specialist team supporting students and partners from Southeast Asia (except Philippines and Indonesia). He has years of experience working in the education industry in Vietnam and is a graduate of Mohawk College. As a passionate educator, he has been successfully supporting many students regarding their English competence and education path.