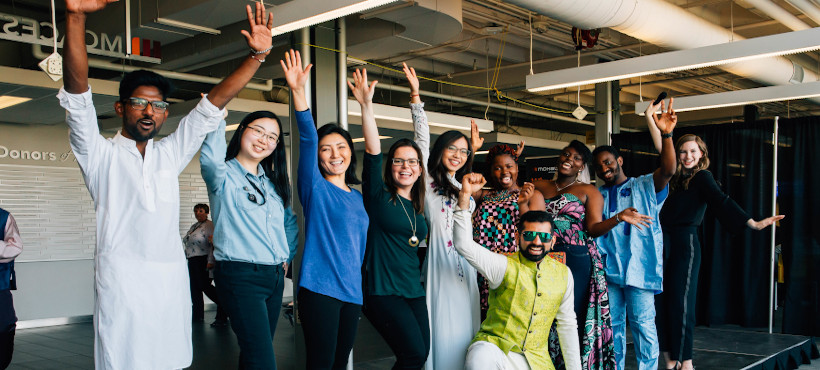 Student Profile: Welcome Jaykumar Amin!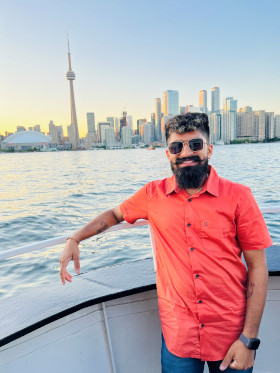 In each newsletter, we profile one of our international students to get to know our students a little better. In this newsletter, we welcome you to meet Jaykumar Amin!

Hailing from Gujarat, India, Jaykumar has embraced his new home of Hamilton, visiting several of the many waterfalls, admiring the escarpment views (especially at Concession Point) and enjoying living on the Mountain. He has also dived right into the Mohawk community, volunteering at the LCC as an International Student Peer Ambassador, presenting the basics of Gujarati at the LCC Language Drop-in, attending MSA events, joining in volleyball and basketball in the R-wing playground, working part-time with Mohawk Security, and enjoying the cultural activities such as Diwali and Navrati celebrations that he says make him feel like he "isn't so far away from his culture and country." He is currently in his second year of the Motive Power Technician program and in his spare time likes listening and playing music (particularly the piano), creating digital content, photography, and playing outdoor games such as basketball and football. Welcome, Jaykumar!
New Student Ambassadors Program Offers Leadership Opportunities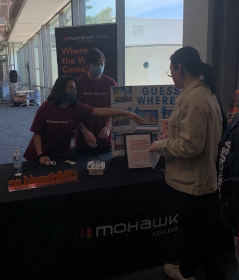 During the summer, the Language & Culture Centre launched a new student engagement project called the LCC International Student Ambassador program. The purpose of this program is to engage international student volunteers as connections to new students, offering them intercultural and leadership training, networking opportunities and the chance to volunteer at LCC events and activities. The ambassadors offer help in navigating Mohawk College services, platforms, and student life to their fellow students. A friendly face to peers, the student ambassador is also a cultural support, offering insight and advice to students new to Canada. Current ambassadors Juan Cordoba, a Biotechnology student from Colombia, and Akanksha Berry, a Business student from India, have been representing the LCC at a variety of events and are helping plan the welcome activities in September. Pictured at left: Ambassadors Akanksha and Juan help out at an LCC booth.
The Language & Culture Centre (LCC) Creates Connections to Culture and Language Learning
During winter 2022, the Language & Culture Centre (LCC) offered a variety of virtual and in-person  workshops on getting to know Hamilton and a trivia night. Later, the Mohawk community was invited to join in on celebrations for Lunar New Year and Nowruz. A highlight was a visit to a Maple farm in St. Catharines where 22 students enjoyed sampling syrup and learning how maple syrup is made. New in winter 2022, the Language Drop-In welcomed students to learn new words and expressions in different languages while meeting in-person with peers in the LCC. So far, Drop-Ins have featured Hindi, Gujarati, Portuguese and Spanish.  In September, the LCC is joining Student Life to welcome students to campus with drop-ins and Living in Hamilton presentations at all campuses.
Check out upcoming activities on the LCC Instagram page: "@MohawkLCC".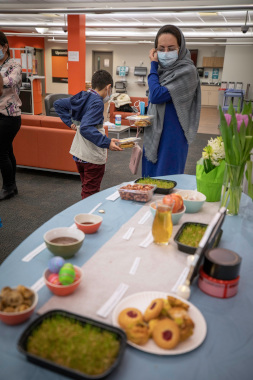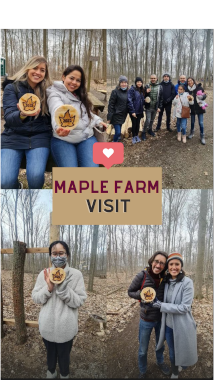 Students enjoying Nowruz and visiting the Maple Farm.
EasyPantry  Program Provided a Warm and Tasty Welcome to New International Students
>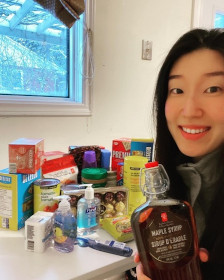 Entering Canada for the first time in the midst of an ice cold winter is no easy task even without a pandemic. During winter 2022, the task was made a little easier for our international students with a new initiative called "EasyPantry." Newly arriving semester one international students applied to receive a grocery bag filled with non-perishable groceries and personal care items such as hygiene products and sanitation kits, and a Mohawk branded cookie handmade by a local bakery, Hello Baked. Funded through the College's COVID Relief fund and developed by the LCC team with support from the MSA Office, up to 500 "EasyPantry" bags were provided to new international students, and a contest on Instagram invited students to showcase how they used the EasyPantry bags. Image at left: International student Surin Lyu showcasing her EasyPantry items.
Arrivals Team Continues to Welcome Students Safely
The Arrivals Team approved and welcomed 535 students for Winter 2022 (from November 2021 to March 2022) and 96 for the spring semester, working 7 days a week to support students navigating ever-changing Government of Canada travel requirements and helping ensure their safe arrival in Canada. See the Entering Canada webpage for details about entry to Canada for international students.
Airport Welcome Provides a Soft Landing for Arriving Students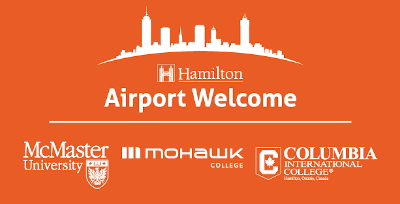 In August, Mohawk College joined partners McMaster University and Columbia International College to welcome incoming fall semester students at Pearson Airport. The Airport Welcome project situates volunteers in bright orange shirts at international arrival gates to offer a warm greeting, guide students to transportation options, and answer any questions.
CBIE Survey Explores the International Student Experience in Canada
In 2021, Mohawk College participated in the Canadian Bureau for International Education (CBIE) International Student Survey. The survey was administered during the fall of 2021 and 41,512 international students from 67 Canadian universities and colleges participated – 12% of all post-secondary international students in Canada. The results are now in and some interesting findings of the survey are:
The three most important factors for choosing to study in Canada according to survey respondents were: Canada's reputation as a safe country, the quality of our education system, and our reputation as a tolerant and non-discriminatory society;
The most important resources survey respondents used when choosing where to study were institutional websites, recommendations from acquaintances, and websites that rank institutions;
The three areas that were most problematic for respondents were finding housing, arranging transfer of funds from home, and obtaining a study permit;
Top issues with the learning environment were collaborating with classmates in the virtual environment, adjusting to the virtual learning environment, and understanding expectations of being a student in Canada.