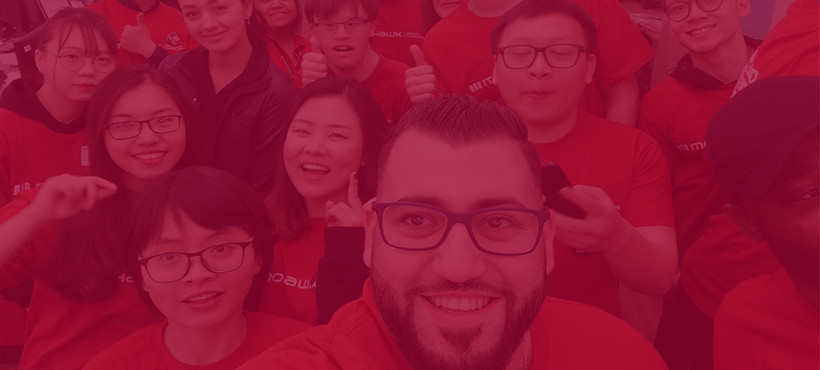 Great Experience - Spotlight on the Student Journey
The Great Experience pillar of our Strategic Plan speaks to the development of both an enriched student life experience and an academic experience that creates job-ready global citizens.
Return to Great Experience page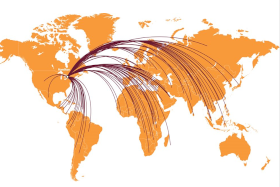 In each newsletter, we will shine a spotlight on a team that supports the international student journey from the dream to the decision to studying here at Mohawk. In this newsletter, we feature the Market Specialist team.
The Market Specialists are an integral part of the student journey – they are the first people a student meets, forging critical relationships that impact a student's decision to choose Mohawk College. Working with students, families and partners, they ensure Mohawk College is chosen as an educational pathway to a new life in Canada. The Market Specialist team, like all of us, had to change the way they supported students during the pandemic. We are highlighting two team members and exploring how they pivoted during the past year.
---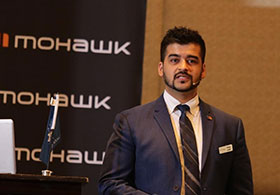 Market Specialist Focus: Vinay Joshi Goes Above and Beyond During Challenging Times
Like almost everyone, Market Specialists have certainly had their share of challenges as a result of COVID-19. Throughout all the hurdles, one thing remained constant and without compromise: the commitment to excellence for our students. Vinay Joshi, Market Specialist for India, has been the epitome of dedication during this time. Having to manage even more queries on top of his pre-existing volumes, he continues to represent the best of our Market Specialists and is driven by excellence no matter the barriers.
Offering an exceptional student experience and transition to Mohawk are at the core of our College's mission. As Market Specialist for Mohawk College's largest market, Vinay takes this to heart, adjusting to serve the ever-growing demands and working literally around the clock to meet the needs of his students and partners. Of course, where and how Vinay works has changed significantly; he now has the luxury of wearing his pyjamas, (or blazer with sweatpants) and attends meetings with a click of a button.
Some highlights from Vinay's year:
Hosting webinars that have had over 1600 students in attendance
Over 5000 student inquiries supported through 1:1 advising, WhatsApp and e-mail, focusing on helping students navigate the new realities of choosing to study while remaining overseas, study permit approvals and transitioning to life in Canada.
Participated in numerous virtual fairs throughout India and South Asia
Vinay continues to advocate for students' concerns and provide them with clarity during these uncertain times. Despite the challenges, he remains committed to quality service and tireless attention to our students. Vinay's high standards and dedication are highly valued by the department, our partners and of course our students!
vinay.joshi [at] mohawkcollege.ca (Connect with Vinay!)
---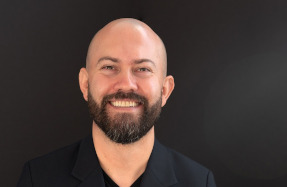 Q&A with Ricardo, Market Specialist for Latin America
How does the Mohawk Market Specialist team maintain its passion for success? By always remembering our core mission – to support international students to realize their academic dreams at Mohawk College and our team values: caring, having an impact, being a team player and continuously improving. Ricardo Rivera, Market Specialist for Latin America, lives and breathes these values even during the obstacles presented by COVID-19. Exactly how does he do this? Let's hear from him directly.
In a recent conversation with Ricardo, he discussed how he manages the unique circumstances we all face during these unprecedented times.
Q — You are very proactive in the virtual world. By the time I am done reading about one event, you are already announcing another! If we can't even keep up just reading about your upcoming events, how do you manage to offer so many?
A — Most of the events and fairs on my social media are partner-related. For me, keeping involved and working collaboratively with my partners is crucial. I highly value my relationships with my partners and it is the most critical factor in recruiting in Latin American (LATAM). It's all about teamwork. How do I do this? I make sure that I am flexible and available for my partners and open to new initiatives, especially during this time. This is not new; I have been working alongside my partners in similar events - just in a different format. The plus side is, having virtual events means I can do more! These social media initiatives are just an add-on to the work we have been doing in LATAM pre-pandemic. Oh, and the trick is - organize well in advance. I book my fairs and commit to my partners at least two months in advance so I can prepare, practice and organize for a perfect event!
Q — What changed about how you do your job since the pandemic?
A — My job didn't change drastically, but what did change is that I have the convenience of working from home which makes me more proactive. I had to make small changes and adapt to new ways of being available for my partners and students. The benefits have been that now there is an opportunity for partners and students to reach me more conveniently.  I would still prefer face-to-face and in-person meetings, but for now, and given the conditions, I think virtual live sessions are working well. As long as I am able to be available for our partners and students, that's all that matters - no matter how we do the job.
"As long as I am able to be available for our partners and students, that's all that matters - no matter how we do the job…I want to be there to minimize their stress and anxiety." – Ricardo Rivera
Q — Throughout the challenges of COVID-19, what has been the single important learning for you, personally?
A — Finding a personal balance between work and family. But I am making gradual steps to work towards this.
Q — It has not been an easy past year for any of us, especially for our prospective students. How or what did you do to make life a little easier for them?
A — Always be available for communication with them. Whether it's through social media, WhatsApp, e-mail or phone, I want to be there for them. The ever-changing process due to COVID-19 is not making it easier for them, but I want to be there to minimize their stress and anxiety.
Q — What are you looking forward to for the coming year?
A — Getting vaccinated and go back to in-person recruitment. I miss people!
Q — Name one thing that you have learned during the pandemic which you will take with you in your role once things get back to "normal"?
A — Digital marketing. I always knew its value, but I have seen it in action now and I believe it is essential, and it will definitely be essential once we are back. The potential is endless with digital marketing and I am excited to use it as a tool in conjunction with what we do traditionally.
Q — Now, because we are all trying to feel a little less guilty, have you ever worked from your bed?
A — Sorry to disappoint - but I have never worked from bed. As tempting as it sounds, I have back pain which prevented me from doing so. But, if you have done this, just know I envy you.
ricardo.rivera [at] mohawkcollege.ca (Connect with Ricardo!)