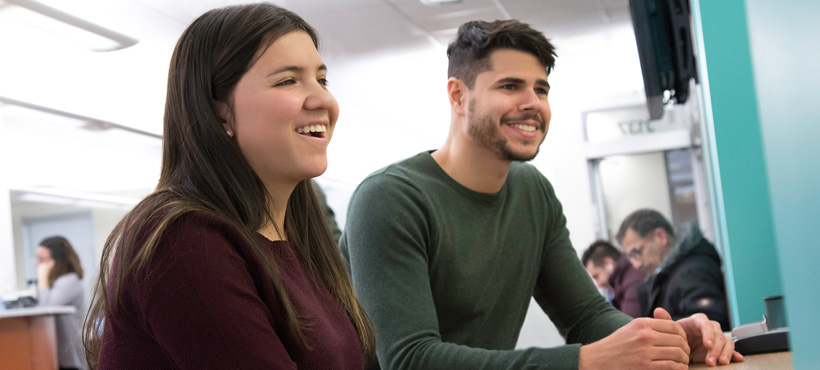 Found on this page is important details about the Mohawk College Tuition and Ancillary fees for international students and the different methods to make a payment.  Review your Mohawk College documents closely to ensure you meet all the timelines and deadlines and ensure your eligible to register upon visa approval.
Fees
Application Fee (Non-refundable): $100
Summer 2022 Registration and Fee Guide
| Winter/Summer 2022 English for Academic Purposes (ESL) | 14 weeks | 7 weeks |
| --- | --- | --- |
| Semester 1 (Levels 1, 2) | $6,761.08 | $3,866.08 |
| Semester 2 (Levels 3, 4) | $6,628.20 | $3,733.20 |
| Semester 3 (Levels 5, 6) | $6,628.20 | $3,733.20 |
| Semester 4 (Levels 7, 8) | $6,628.20 | $3,733.20 |
* Fees are estimated and will be confirmed based on level placement
International Student Fees for 2021/22
| International Fees | Most Programs (Tier 1) | Deregulated Programs (Tier 2) | Differentiated Programs - Aviation (Tier 3) |
| --- | --- | --- | --- |
| Tuition | $14,081.93 | $15,091.93 | $18,891.93 |
| Health Insurance (Guard.me) | $565.00 | $565.00 | $565.00 |
| Compulsory Ancillary Fees | $1,543.07 | $1,543.07 | $1,543.07 |
| Total Base Fees | $16,190 | $17,200 | $21,000 |
NOTE: Compulsory program fees and Co-op term fees will be added where applicable as well as recovery taxes for International students detailed below. For more information visit the Tuition and Fees website.
| Student Recovery Tax Description | Cost per Semester |
| --- | --- |
| Student Recovery tax for International | $375 |
| Municipal Tax Description | Cost for Fall Semester |
| --- | --- |
| Municipal Tax Recovery for International | $75 |
Fee deadline
| September 2021 Intake | January 2022 Intake | May 2022 Intake |
| --- | --- | --- |
| June 15, 2021 | November 15, 2022 | March 15, 2022 |
Following the fee deadline, in country applicants will be required to pay full fees at the time of application and out of country applications submitted after the payment deadline will be required to pay the $2,200.  Dates are subject to change without notice.
Please Note
All fees are subject to change
All amounts are listed in Canadian dollars
Upon receipt of your Offer of Admission, please follow the guidelines to make payment to the College. The Offer of Admission may request you make a partial or full payment to the College within 20 days of receiving your Offer of Admission.
Tuition deposit is non-refundable unless your visa is denied.
Some countries require payment of full first semester fees to receive a visa.
SDS Applicants are required to pay full fees within 20 days of receiving their Letter of Acceptance.

All in country applicants are required to pay a non-refundable $2,200 tuition deposit* upon receipt of their Offer of Admission.
Fees breakdown
Tuition fee
Program compulsory fees
Ancillary fee (e.g. city bus pass, fitness centre membership)
Health Insurance
Provincial and municipal fees
Co-operative Education Fees (If applicable): Co-op and Internship fees are charged in addition to base tuition fees. The Co-op fee is pro-rated over the duration of the program of study.
Upon registration, a breakdown of fees will be available on the MyMohawk student portal.
Compulsory Ancillary Fees
FAQ
Can an international student work in Canada with a study permit? Yes, please more information on the Working in Canada webpage.
How much does it cost to live in Hamilton? You can find the estimated budget of personal expense on this page.
Methods of Payment
Mohawk College provides various methods of payment for students' convenience. Scroll down to choose an option below to make secure payments to Mohawk College.
New for May 2022, upon payment, applicants must upload proof of payment to their OCAS International Applicant portal. Applicants supported by an authorized Mohawk College representative can connect with the agent for assistance. 
---
Payment from outside Canada
Mohawk College has partnered with Flywire to offer an innovative and streamlined way to make a payment from accounts outside of Canada. Founded by a former international student, Flywire's mission is to save money for international students and their families that would otherwise be lost on bank fees and unfavourable foreign exchange rates.
Note the payment processing could take 3-5 days. Please make the payment a few days prior to the deadline.

Flywire Benefits & Instruction 
BENEFITS
Save on bank fees and exchange rates
Pay from any country and any bank
Pay by credit card
Track payments from start to finish
24/7 multilingual customer support
---
HOW TO MAKE A PAYMENT
Select what fees you want to pay between application fee and tuition fee. Then select your preferred payment method from the options provided. Options may include bank transfer, debit/credit card in your home currency, electronic payment, or other local options.
Create your account or log into your existing Flywire account, then enter some basic information to initiate your payment booking.
Follow the instructions provided to send funds to Flywire. For bank transfers, follow the instructions provided to send your funds. Depending on your bank, payment may be made online, in person, or over the phone. For debit/ credit card payments, enter your card details online to complete your payment in your home currency.
Track your payment by logging into your Flywire account at any time. Receive text and email status updates each step of the way, including a confirmation when your payment has been delivered to Mohawk College.
---
FLYWIRE CUSTOMER SUPPORT INFORMATION
Toll-Free: 1-800-346-9252
Email: Support [at] Flywire.com
Web: Flywire customer support
No matter the time zone, you have a dedicated multilingual customer support team available via live chat, email and phone.
---
Payment from inside Canada
Please note that during the campus closure processing times in person payments are not being accepted and for payments received through the mail processing will be delayed.
Online: Beginning for May 2022 applicants, use the Pay Online function within MyMohawk to pay for your tuition fees. This payment option is available to applicants who have received their Offer of Admission and by navigating to the Applicant tab in MyMohawk.
Post or Mail: Send an International Money Order, Bank Draft or Certified Cheque made payable to "Mohawk College" by mail to:
Mohawk College
International Admissions (C102)
135 Fennell Avenue West
Hamilton, Ontario
Canada L9C 0E5
By Credit Card (Visa or MasterCard): For January and March 2022 applicants, fill and sign credit card payment form (PDF). This page must be faxed (905-575-2362). We do not accept credit card payments via e-mail.
Additional methods for returning students only
Online: Through MyMohawk
Electronic Banking: Take the SBID number (which you can find on your fee statement) to your banking institution. Allow 5-7 business days for this payment method to be processed.