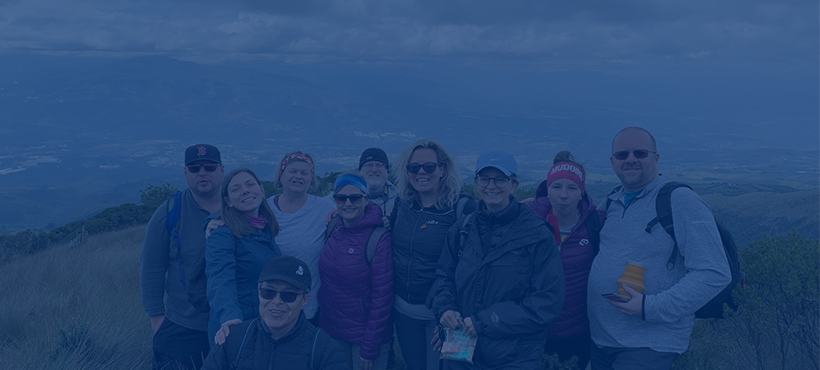 Global Citizen - Global Learning
Developing global competencies through international experiences is a key strategic priority to develop future ready global citizens. Read about our latest initiatives...
Return to Global Citizen page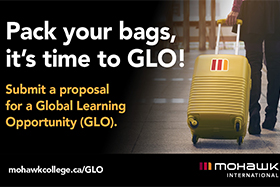 Pack your bags, it's time to GLO!
Winter 2020 marked the launch of the Global Learning Opportunity (GLO) initiative. Thanks to a generous donation from the College international health insurance provider guard.me, Mohawk College is able to fund opportunities that enhance the global perspectives and intercultural skills of students and faculty.
Full-time faculty were invited to submit proposals to embark on global trips that build intercultural competencies for themselves and/or students. A large number of applications were received from faculty, eager to enhance their global understanding and that of their students. Due to COVID-19, this project has been put on hold temporarily.
In the meantime, check out the GLO website for information about the initiative as well as information about past college trips to Greece, India, Italy and Jamaica!
---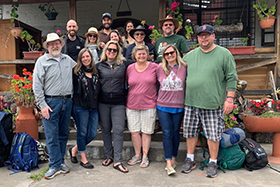 Ecuador: To the equator and beyond
A group of 10 Mohawk College Faculty and staff travelled to Ecuador in February 2020 for a 9-day Food Revolutions program with Operation Groundswell, partially funded through a generous donation from guard.me. The purpose of the initiative was to offer training to faculty who are interested in organizing and facilitating short-term abroad experiences with student groups, and to provide service to local communities in Ecuador. Short-term abroad experiences for students and faculty can be transformative as they are rich with new learning opportunities. Immersing oneself within another culture provides an opportunity to challenge personal worldviews, through the exploration of different cultural and community practices.
Highlights from the trip included:
a visit to Quito involving orientation and Spanish language lessons, as well as cooking lessons;
a trip to the Fundacion Brethren y Unidad where the group spent a few days planting trees, farming, and working alongside local youth while learning about food sustainability;
a long voyage to Santo Domingo where the group stayed with local Tsa'chila families, a small group of indigenous people, learning about traditional crops, medicines and ceremonies - and how to extract beans from the cacao plant into coffee. There are only 2800 Tsa'Chila people spread out throughout Ecuador, a shrinking community that seeks to protect its cultural roots and practices;
a journey to Shunka Bee Farm in Machachi where the group learned about the importance of bees and the threats that bees are facing with factory farming, mass harvesting, and climate change. The group worked hard at the bee farm planting flowers for the bees, clearing fields, and gently harvesting bees wax; and
a return to Quito for a "disorientation' and some time to tour the city, including visiting the Middle of the World museum and monument, standing with each foot on either side of the equator and learning more about the traditional peoples in Ecuador.
The group returned with warm hearts, bug bites, new perspectives, and much love for a beautiful country. The changing altitude and temperature, the rain, the humbling quarters, and the hard work only added to an intensely joyful, emotional, and educational experience.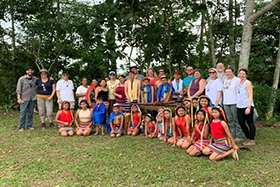 The team with the local indigenous community known as the Tsa'Chila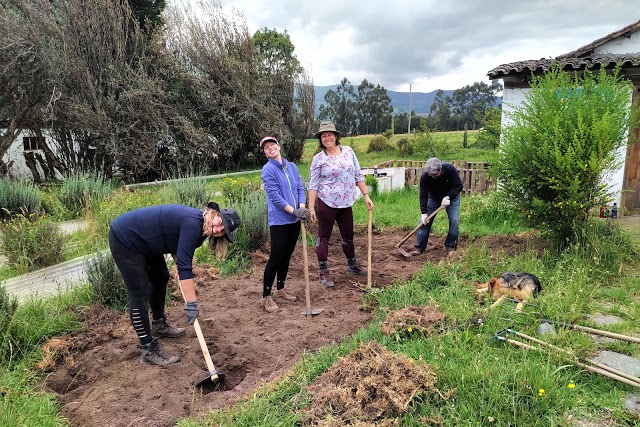 Readying the ground to grow organic produce at the Shunka Bee Farm in Machachi, Ecuador
---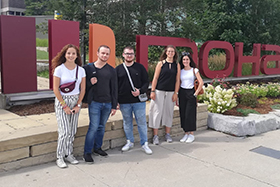 Mohawk College welcomes students from Italy and Mexico
In September 2019, Mohawk International welcomed four Italian students and one Mexican student to Mohawk College for the fall semester to study with our Business and Computer faculties. The students greatly enjoyed their time at Mohawk and found it to be a rewarding experience, both personally and academically. Similarly, Mohawk faculty members appreciated having the students in their classes.
Professor Giselle Jones noted, "Sara and Valentina were a great addition to our Project Management for Marketers class. Most of the work in this class was completed in a group and these students we able to provide a unique perspective that added to the success of their project." Associate Dean Erica Fagan added, "I had the absolute pleasure of having Xhesi and Mauro in my Cultural Norms at Work course. Their stories significantly widened the perceptions and stereotypes the other students had about Italians and Italian life and sparked interest in many to travel or work there in the future. The fact that Mauro and Xhesi were exchange students epitomized the purpose of the course and highlighted how important cultural awareness is to personal growth and success. I hope they found they 'grew' from their exchange experience as much as they helped others in the course do so."
Mohawk International looks forward to hosting more exchange students at Mohawk in the future.