Homestay with Canada Homestay Network
The Homestay program allows our international students a chance to have the extra support of living with a Canadian family. This is a great opportunity to make friends quickly and to learn more conversational English. Canada Homestay Network will help make all the arrangements. Explore Canada Homestay Network services.
Preparing for Homestay Accommodation:
Phone: 1-289-426-5042
Email: hamiltoninfo [at] canadahomestaynetwork.ca (Canada Homestay Network) - Hamilton office

Food:The Homestay program often includes some meals. Please enquire when making your living arrangements. Meal plans are not available for students in the Homestay program.
Hotels
Many hotels in the Toronto and Hamilton area available for short term stays for international students. Below are some hotel chains that may offer various additional services, such as shuttle services from Pearson airport, meals, and housekeeping. Please contact the hotel in your desired area directly for more information:
For additional questions about hotel programs, arrivals [at] mohawkcollege.ca (please contact the arrivals team.)
Short-term Rentals
Short term rentals may be a great option for students looking to stay until they are waiting for their accommodation start date. See below for some options:
Residence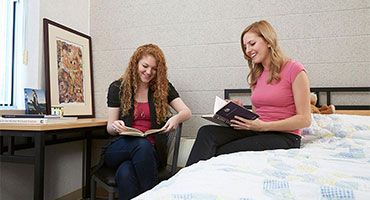 Residence, only available for Fennell campus students, offers everything you need to make your College experience enjoyable and safe. Only a limited number of spots are available and it is important to apply early.  Explore Mohawk Residence to learn more.
Note: The Mohawk Residence is located adjacent to Fennell campus. There are no Mohawk Residences for Stoney Creek or IAHS campuses. Please note where your classes will take place before making housing arrangements.

Food: If living in residence, only a microwave and refrigerator are provided. A meal plan is required for all students in residence. Your meal plan provides discounts towards the purchase of snacks, drinks and meals on campus and nearby restaurants.
Off-Campus Living
Check out our off-campus living page to learn how to connect with potential roommates, and browse listings in the community - explore Off-Campus Housing. Note – please check what campus your program is offered at and be sure to find housing near that campus.

Food: Students living off campus typically have access to a kitchen but make sure to ask when making your living arrangements. Meal plans are not available for students living off campus.
Know your Rights
The Mohawk Student's Association (MSA) can provide you with free Legal Counselling if you are experiencing landlord/tenant issues or are unsure what your tenant rights are. Please visit the MSA Legal Counselling webpage for more information. Before you arrive, make sure that you review your rental rights as a newcomer to Canada.