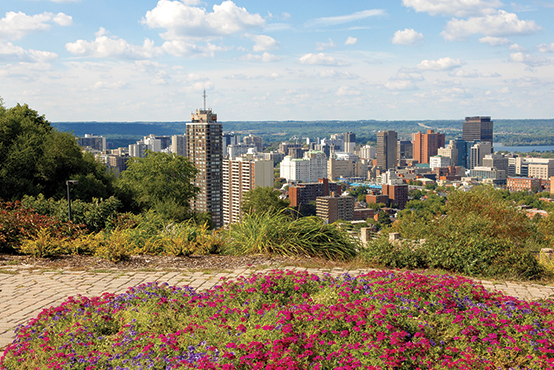 Hamilton, Ontario, Canada
One of Canada's largest cities, Hamilton is located about an hour west of Toronto and north of both Niagara Falls and the United States border. From Pearson International Airport, you are about a one-hour flight from Montreal, Ottawa, New York, Chicago and Washington.
Population
A city of more than half a million, among Hamilton's diverse population, 1 in 4 people were born outside of Canada and the city welcomes 10,000 international students each year.
Climate
Cold in the winter, hot in summer, beautiful spring and fall. Hamilton's summer temperatures in July and August reach an average high of 24ºC and an average low of 14ºC. Our coldest winter days in January/February have average high temperatures of -2ºC and lows of -11ºC.
Canadian Currency/Money
Currency in Canada is the Canadian Dollar (CAD) which is not the same as the US dollar (USD).
Explore Hamilton

Video credits: "Discover Hamilton" was produced by Tourism Hamilton. "Explore Hamilton" was produced by the City of Hamilton.
Resources for Living in Hamilton
City of Hamilton
Visit City of Hamilton for all things Hamilton – welcoming new residents, housing, healthcare, education, recreation and more.
Community Services and Organizations
The YMCA is a network of community centres offering Hamilton residents and newcomers opportunities to lead healthier lives. YMCA provides programs including health & fitness, aquatics, camps, childcare and employment services.
Hamilton Centre for Civic Inclusion develops programs to make Hamilton a welcoming and inclusive city.
See also a list of cultural centres in Hamilton.
Hamilton International Students provides access to resources specifically for international students and young newcomers to Hamilton.
Childcare
If you are bringing your children with you to Canada, please see childcare resources below:
Register for licensed childcare facilities in the city of Hamilton.
See a list of licensed childcare providers.
Education
If you are bringing your children with you to Canada, please see below a list of the school boards in Hamilton:
Entertainment/Restaurants/Social Activities
Hamilton has a thriving music, arts and cultural scene as well as a vast array of internationally-themed restaurants.
The Hamilton newspaper TheSpec has a list of social events.
Tourism Hamilton - What to Do lists things to do in the areas of arts, culture, nature, music, sports and more.
Tourism Hamilton - Where to Eat also lists the vast array of restaurants in the area.
Where is Hamilton compared to other cities?
Please note, the distances below are calculated from downtown Hamilton. There may be additional travel time to your campus (Fennell, Stoney Creek, Institute for Applied Health Sciences - see above links.) Note that if you are commuting, you should check the distances from the city where you wish to live and the college campus. If commuting into Hamilton, Burlington and Dundas are nearby options.