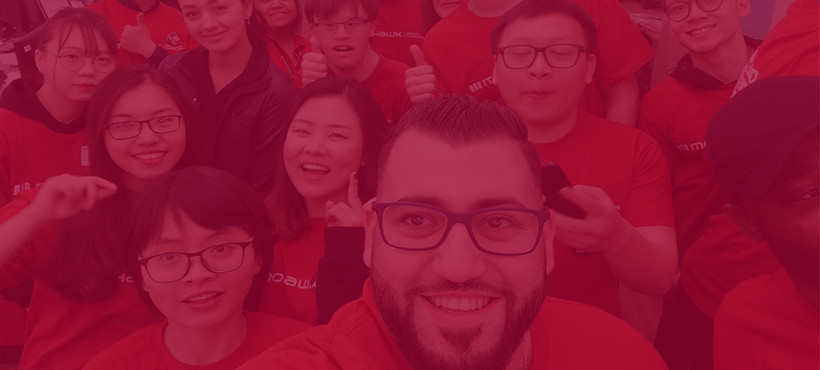 Great Experience: Supporting our Students
The Great Experience pillar of our Strategic Plan speaks to the development of both an enriched student life experience and an academic experience that creates job-ready global citizens.
Return to Great Experience page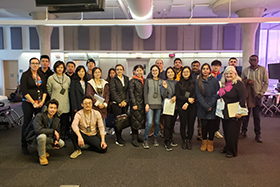 GAS-EAP International students impress at CityLab Project Showcase
During the Fall Semester, GAS-EAP Level 7 students Hanxiao (Katherine) Li and Patrick Nascimento Pfeiffer presented their research poster at the CityLab Project Showcase Event held on November 29. Their research question was 'Do International Students really know the City of Hamilton?' Katherine and Patrick presented with confidence and enthusiasm to a theatre filled with city staff, Councillors, as well as other students and faculty members all working on civic issues, including Mohawk College President Ron McKerlie.
This was the fifth Project Showcase event hosted by CityLab. CityLab is a collaborative innovation program between the City of Hamilton staff, Mohawk College, McMaster University and Redeemer University College to work on real city challenges. Students in the GAS-EAP Level 7 class worked in partnership with City of Hamilton staff member, Tammy Hwang on the CityLab Challenge – "How to Keep International Students in Hamilton after Graduation". A total of 51 students from the GAS-EAP Level 7 class took part in this research project together with the following Faculty: Nina Devolder, Laureta Vavla, and Vivian Holditch.
---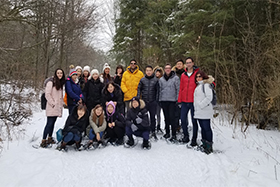 EAP Events and Workshops Provide Real-Life Learning for Students
In fall 2019, the EAP program started a new initiative for level 7 and 8 students called "classroom observation opportunities". With cooperation from post-secondary programs, students are able to sit in on a "typical" lecture in their future program. Students are able to view classroom dynamics and see what it will be like when they enter their program of study. The students who participated said that it solidified their program choice, as well as boosted their confidence in their abilities to handle material in their next program.
As well, the first EAP Graduate Roundtable discussion took place. EAP graduates spoke to current EAP students about life in a post-secondary program and tips on how to overcome challenges. Level 7 and 8 students also had an opportunity to participate in a CLSR (Careers/Life Skills) assessment session to determine their "colours". This provided students with an opportunity to learn about their personality types and how to leverage strengths when working in a group setting – great preparation for their program of study when group work is the norm!
---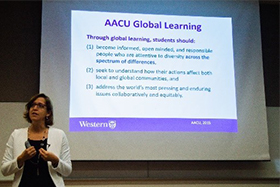 Intercultural Teaching Competence Forum Focuses on Culturally Responsive Curriculum
As Mohawk College internationalizes both its campus and curriculum, important questions emerge for faculty: How can we engage students from diverse linguistic and cultural backgrounds in our classrooms? How do we help students collaborate with each other in diverse groups during their studies as well as after graduation? Mohawk College was pleased to welcome Dr. Nanda Dimitrov, Senior Director at the Centre for Educational Excellence at Simon Fraser University, and leading scholar in the field of intercultural teaching and learning on October 17, 2019. Dr. Dimitrov delivered a thought-provoking keynote on the model of Intercultural Teaching Competence (ITC) (Dimitrov & Haque, 2016) to a packed house of faculty, staff and administrators, at Fennell campus. The keynote was followed by two hands-on workshops where faculty discussed strategies for facilitating group work in multi-cultural learning environments.
---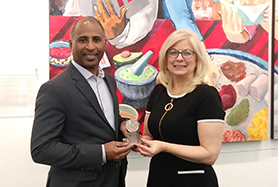 First Annual Faculty GREAT Award Recognizes Inclusive Pedagogy
This past fall, Mohawk International and the Centre for Teaching and Learning (CTL) launched the Faculty GREAT Award (Global Responsive Engaging Approachable Teaching). Students were invited to nominate their professors and instructors by describing how they create a welcoming and inclusive classroom environment while incorporating global perspectives in their curriculum.
The response was amazing – 64 professors and instructors were nominated and 111 nominations were submitted, with many faculty nominated more than once. It is a testament to our stellar faculty that students took time out of a busy start to the fall term to describe in detail, sometimes in great detail, how their professors met the award criteria.
Congratulations to our first recipient, Victoria Harrison. Victoria is a full-time professor at Mohawk who brings over 25 years of experience working in various areas of law as a licensed Paralegal. She has been teaching in the McKeil School of Business since 2015 in many diverse programs including Paralegal, General Business, Office Administration and the Community and Social Services Management Graduate Certificate program. Seven students nominated Victoria and related how Victoria goes above and beyond to support her students and as well, includes global perspectives in her course to help develop the intercultural competence of her students. Congratulations to all the nominees: you should be proud of your achievements and of your efforts to create a welcoming, supportive and inclusive community at Mohawk College!
Watch for more details in September 2020 for the next round of nominations.
---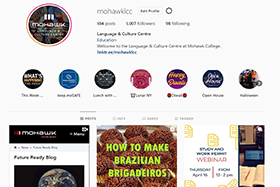 Online Events Engage Students during COVID-19
March 2020 will be remembered for a long time as a pivotal point in history. For the Language & Culture Centre (LCC) it meant having to switch from in-person events to online-based alternatives. Some examples of online activities included a weekly Instagram post called "Travel from Home" where staff or students posted a video about their home country. Staff and students posted cultural games, cooking demonstrations, photos and stories from home. The LCC also collaborated with community and college partners to host webinars on themes relevant to international students like permit applications and job searching in Canada, with some events seeing over 130 students in attendance! We continue to offer Coffee Club virtually as a way to keep students connected, especially during these times when they are far from family and familiar connections.
---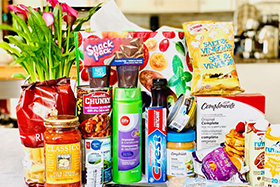 Helping Hampers Help Students through COVID-19
On April 23, the International team launched the Helping Hampers program to address immediate needs of students and their families for food and personal care items. Staff joined forces with family members, friends and the community to pitch in to support our international students. A completely contact-less donation and drop off process was developed with all porch deliveries sanitized and taken to a central location for packaging. The delivery to the student was also contactless and students were emailed or called prior to delivery to ensure that they could receive the package. Staff and faculty were encouraged to nominate students in need for the program and close to 100 hampers were delivered to students in the GHTA by 20 volunteer drivers and almost $2000 was raised in gift cards. To continue into Phase 2 of the program, Mohawk International received a $25,000 grant from the Hamilton Community Foundation to continue to look at ways to support international students with food insecurity issues.