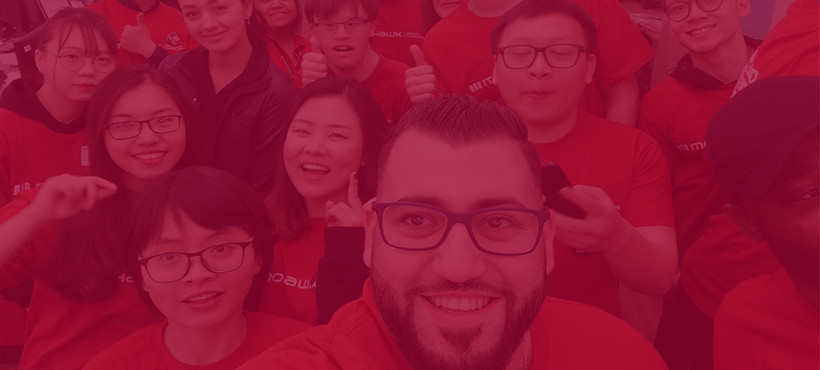 Great Experience - Welcoming our Students
The Great Experience pillar of our Strategic Plan speaks to the development of both an enriched student life experience and an academic experience that creates job-ready global citizens. Read about our most recent initiatives!
Return to Great Experience page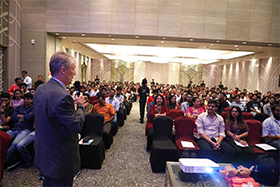 Pre-Departure Workshop Prepares Students for Success at Mohawk
On November 18th, 2019 Mohawk College successfully hosted another Pre-Departure Orientation for International students in India. The Mohawk team of Paul Armstrong - Chief Operating Officer (formerly Vice-President Academic), Keith Monrose - Dean of Mohawk International, and Vinay Joshi – India Market Specialist was joined by broad representation from the community including the Mayor of Hamilton, Mr. Fred Eisenberger and the Vice-President Research of McMaster University, Dr. Karen Mossman. Staff from the City of Hamilton, McMaster Innovation Park, Gowling law firm and other business leaders travelled to India as well and presented to the students. Over 350 international students attended and learned about Mohawk, Hamilton and some insider tips on how to make their life journey a success. Mr. Eisenberger established a strong connection with the students as an Alumnus of Mohawk College himself. The Hamilton team also participated in a Canada India Business Council event to explore potential business opportunities between India and Canada.
---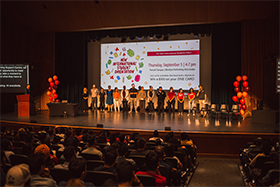 International Orientation (September 5, 2019 & January 6, 2020) Welcomes Students
At the beginning of every semester, new international students are welcomed by Mohawk International staff members and other key student service areas during International Orientation. The fall 2019 and winter 2020 sessions brought together over 550 new students each, or approximately a third of our new arriving students! In September, we invited keynote speaker, Juan Bendaña, to inspire our students with a special presentation that touched on points like overcoming fears and creating an impact on the people around you. Relive the magic of Orientation with the following video:
---
iCENT App Eases Student Arrival
Before our students touch down in Canada, there are a multitude of tasks and activities they need to accomplish from obtaining their Visa to purchasing an airline ticket to saying farewell to friends and family. Once they arrive, there are several steps they need to complete such as visiting International Square to check in, selecting their timetable and then of course, discovering all the services available to help them succeed at Mohawk. Now, there's an app to help with all of that!
The iCENT app ("iCent" meaning "International Centre") was developed by an Ontario college graduate international student in partnership with guard.me and was launched as a pilot here at Mohawk College in November 2019. In addition to providing pre-departure and post-arrival checklists, it also provides information on services available at Mohawk College and in the community. In addition, students can receive notifications via the app about events such as Orientation and workshops. The pilot was extremely successful with over 700 users in over 50 countries having downloaded it and over 6,000 sessions initiated in the first 4 months. No longer a pilot, the app is now a regular part of our services and we continue to add new features that will assist and engage students. Read more about the iCent app!
New in Summer 2020 - the Future Student App - a part of iCent, helps students with crucial decisions about coming to Mohawk and showcases all of our excellent programs and services! Read more about the Future Student App!
To download iCENT, look for iCENT in the Apple or Google store.