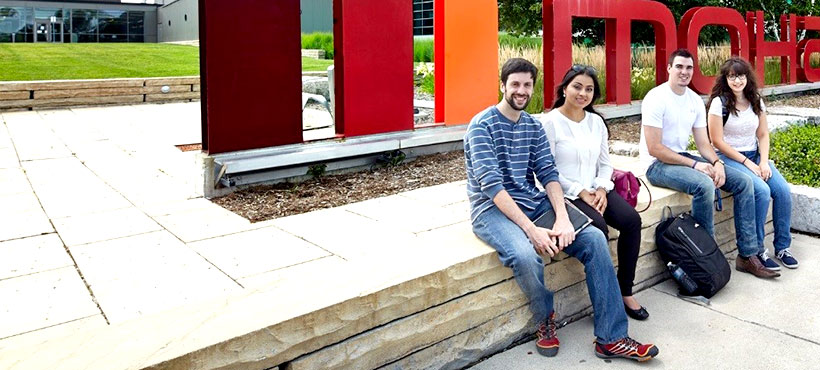 Find out all the steps to get ready to start your studies at Mohawk College!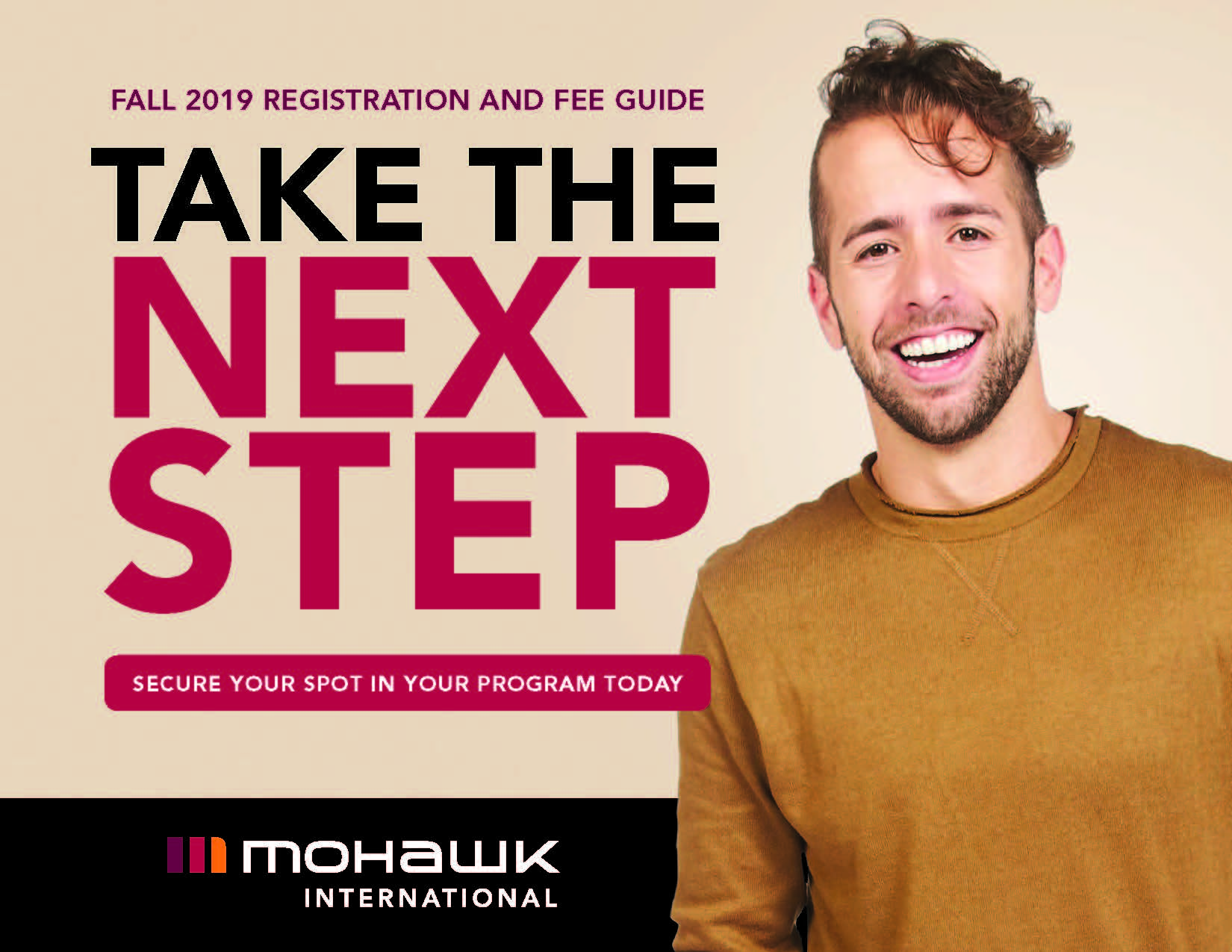 Registration and Fee Guide for International Students
Review the Registration & Fee Guide for important dates and next steps while you prepare to study at Mohawk.

Download the iCent App
Get prepared to come to Canada and study at Mohawk College with the iCent app!
Download the app before you plan your flight
The app is mandatory for all international students - be sure to download it before you plan your flight! Important messaging and information will be sent directly to you via this app.
Use the app to learn about everything you need to succeed at Mohawk:
When to pay fees and select timetable
What to pack and bring to Canada
Where to find us at Pearson International Airport
Find all the important dates and information you need to be ready for your time at Mohawk College
And more!
Follow these steps to download the app:
Visit the App Store or Google Play and download the app

Enter Canada in the "Institution Country" field

Enter Mohawk College International in the "Institution Name" field

Use your email to register for the app, you will be sent an email with your PIN. Please remember to check your Junk Mail inbox

Use your PIN to login the app 
Questions or trouble logging in?Contact: support [at] iCentapp.com
Note - Google Android in China: We are aware that there have been some download issues for iCent in mainland China. If you are in mainland China, download the app directly

Register for your courses
When you receive your study permit and have paid all tuition fees for your program, you will be able to register for your courses.

Check your timetable
Find out when your timetable will open
How to check your timetable
Select the Registration option from the left side menu
Go to the Postsecondary students box located at top left
Select the link: Find Out When to Register Online
Find your program name and semester
Confirm the date and time you will need to pick a timetable
Log in to your MyMohawk account on the date and time that your timetable opens. Select your preferred schedule.
Follow the same instructions above and select "Choose or Change My Timetable"

Follow the steps to confirm and print your schedule
You must pay your full tuition fees before you can confirm your registration and receive a timetable.
If you have not received your username and password for MyMohawk, please

intered

[at]

mohawkcollege.ca

(send us an email)

.

Entering Canada?
Please note that at this time, all who enter Canada must self-quarantine for 14 days.
Resources to help get ready to come to Canada
Housing
Try to arrange for a place to live before arriving in Canada. Check out our Housing page for options.
Hamilton
Mohawk College has 3 campuses located in Hamilton. Check out our Welcome to Hamilton page for details.
Working
You may work 20 hours a week if you are on a study permit. Check out our Working in Canada page for full details about working here.
Community Resources
Check the list of community resources for supports available to you.
Check International Student Connect for settlement and orientation information for international students pursuing a post-secondary education in Ontario. Their website offers a number of free webinars and fact sheets.

Attend Orientation events
Pre-departure events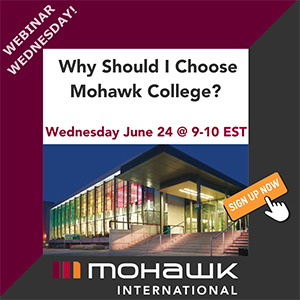 Why Should I Choose Mohawk College?
Wednesday, June 24
9 - 10 am EST
Our market specialists will present information on the next steps in your journey to Mohawk and provide highlights of the upcoming webinar series.
Did you miss out on attending this session? Watch a recorded version now!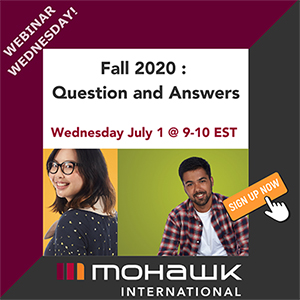 Fall 2020: Your COVID Questions Answered
Wednesday, July 1
9 - 10 am EST
Mohawk College market specialists will answer questions regarding the College's Fall 2020 COVID academic planning and commencing studies.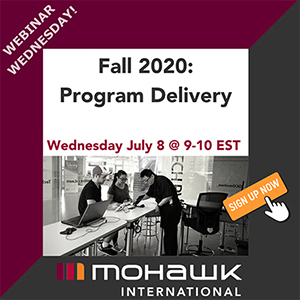 Mohawk College Fall 2020 Program Delivery
Wednesday, July 8
9 - 10 am EST
Join a session with faculty that will focus on program delivery and how to succeed in a virtual learning environment.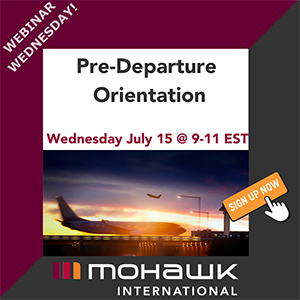 Pre-Departure Session
Wednesday, July 15
9 - 11 am EST
For students that will be travelling from overseas or from outside of Hamilton to begin their studies in Fall. This workshop will provide pre-departure tips and information on how to transition to your new life in Canada!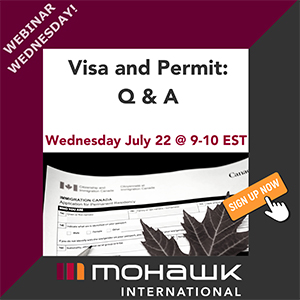 Visa and Permit Q&A
Wednesday, July 22
9 - 10 am EST
For new students, an immigration consultant will provide important information on study permit and visa. An opportunity for questions to be asked as part of your registration.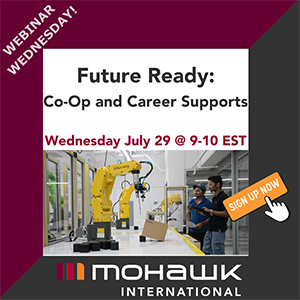 Future Ready: Mohawk College Co-op and Career Supports
Wednesday, July 29
9 - 10 am EST
Your success is important to us. This session will focus on co-op and career supports available to students at Mohawk College as well as the community supports, programs and services offered through Mohawk College's Language and Culture Centre.

Get ready for virtual and remote learning
In August, we will launch a Toolkit to help you prepare for virtual/remote learning. In the meantime, here are some tips.
What you need to be successful for virtual and remote learning
Equipment: ensure you have the technology to be successful. This includes a laptop or desktop computer. A phone isn't optimal for accessing all the materials you will need for your courses. If you need to borrow a laptop, please contact:
Internet access: Be sure you have stable access to the Internet. You may required to connect in real-time or to watch videos that require high bandwidth for some of your courses.
Space to work: If possible, try to create an environment that is free from distractions and comfortable for you to work in for long stretches at a time.
How virtual and remote learning works
MyCanvas: all of your course materials, classes, etc. will take place in the MyCanvas learning management system – you will log in with your Mohawk ID. A tutorial will be available in August so you can learn all about your learning space!
Webconferencing: Your professor will sometimes conduct classes online in real-time, this is sometimes called 'synchronous' learning. Your professor will provide a link and more details so you can connect.
Group work: Expect that for some of your courses, you will be expected to work in groups with your peers. This provides you will experience and skills you will need in the workplace once your graduate! Employers look for graduates who can collaborate well with others.
Virtual Private Network (VPN): In some cases, you may need to access College resources through a special connection – this is called a Virtual Private Network (VPN). A VPN, once connected, make your device look like it is on a College controlled network. A VPNs is useful for accessing applications or software that can only be accessed on site due to licensing requirements. This is a free service you can access. Read more about VPN [link to PDF]
Tips to be successful
Log in to MyCanvas: Be sure to log into MyCanvas often to check on emails from your professors, assignment and assessment due dates, real-time class times, etc.
Review the Course Outline: A Course Outline provides information about what will be covered in your course, learning outcomes, required textbooks, etc. Be sure to review this for each of your courses so you are aware of required resources, due dates and activities
Get Help: Reach out to any of the many supports available if you need help. The College provides many services that help you to be successful in your studies. See a

list of supports available

.
Study Smart: See this list of

Studying Smart tips

for a full list of steps you can take to be successful in your studies. Other resources to help you prepare for success will be provided at the beginning of August.
Peer Mentors: Peer Mentors are available to help you get used to College life and as a buddy to talk to if you get stuck. Sign up for the

Student Connect Peer M