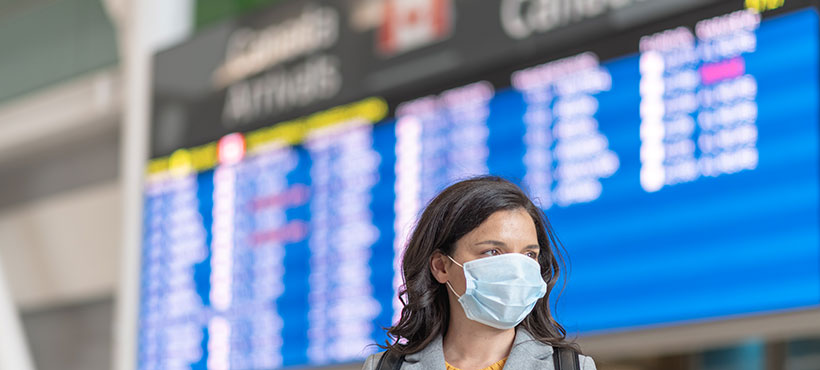 Ensure you read the following important information if you will be travelling to Canada to study!

Additional Helpful Links
Step 1: Prepare for Entry to Canada
Ensure you have a valid study permit
You are required to have a full visa in order to travel to Canada. If you are a new student travelling to Canada, you need to inform Mohawk College of your visa status. Review the following pages on our website about student permits:
---
Download Mandatory Apps
Download the following apps:
iCent App
This app is mandatory for all students travelling to Canada and contains critical information you must follow upon arrival in Canada and at Mohawk College.
Follow these steps to download the iCent app:
Visit the App Store or Google Play and download the app
Enter Canada in the "Institution Country" field
Enter Mohawk College International in the "Institution Name" field
Use your email to register for the app, you will be sent an email with your PIN. Please remember to check your Junk Mail inbox
Use your PIN to login the app  
For assistance or questions, contact: support [at] iCentapp.com or view the following video:
Note: If you cannot access the App version of iCent, you can access the iCent App Content via web browser as well!
Google Android in China: We are aware that there have been some download issues for iCent in mainland China. If you are in mainland China, download the app directly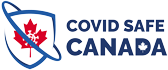 COVID Safe Canada: Within the iCent app, locate the COVID Safe Canada icon on the home screen. COVID Safe Canada supports international students arriving to Canada with forms, guidelines, resources, live chat and more. You will submit key information to Mohawk College regarding your arrival and quarantine plans through COVID Safe Canada.
See the COVID Safe & iCent Privacy Disclaimers
ArriveCAN App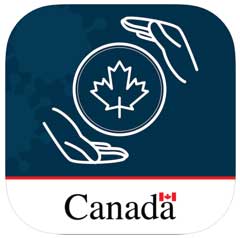 Canadian Border Services has launched their ArriveCAN app which will support you in your immigration to Canada. Download this mandatory app and follow their instructions.  Any co-arriving family members will also be required to download this app. You will need to use the ArriveCAN App to confirm arrival and to check in daily during your 14 day quarantine period. Download the ArriveCAN App.
You are required to download and use both the Mohawk College iCent app and the Government of Canada ArriveCAN app. 
---
Submit your Mandatory Arrivals, Self-Isolation and Quarantine Plan
Mandatory Self-Isolation: All international students travelling to Mohawk College from outside of Canada are required to self-isolate for a period of 14-days. Also, any other students returning to Canada within 14-days of the start date of their program must also complete a 14-day self-isolation period. These rules apply after any subsequent international travel for as long as the self-isolation requirement remains a directive of the Government of Canada.
Visit the following Government of Canada resources which explain how to quarantine and self-isolate:
You are required to submit your travel and contact information, quarantine plan and COVID-19 Self-Assessments via the ArriveCAN App before you board your flight to Canada, and be ready to show your ArriveCAN receipt upon arrival.
You are required to submit your arrivals and self-isolation plans to Mohawk College for approval  via the iCent Covid Safe App. Your plans must be approved prior to making any formal travel arrangements.
Complete the following form before you leave your home country:
To find the form:
Launch the iCent App (See instructions above to download this mandatory app)
Click the COVID Safe icon located on the home screen of the app
Look for "Arriving to Canada Forms"
The Self-Isolation Plan Form will allow you to choose your Mohawk College pre-approved Quarantine Package or submit your own quarantine plans.
Note: If your January program requires you to be on campus, you should travel to Canada no later than the week of December 20th to ensure that you complete your 14-day quarantine prior to the start of on-campus studies on January 6th.
---
Self-Isolation Guidelines
Your plans must meet the following guidelines and be approved by Mohawk College:
Self-isolation/quarantine means staying in one place of residence, without leaving or seeing anyone for the duration of 14 days to help protect you and others from exposure.
Your quarantine must be arranged prior to travel
Your quarantine location must provide each student or student family unit their own room with a private bathroom and protocols to properly support disabilities or other health conditions
Your quarantine plan must be assessed to be acceptable by the Government of Canada at the time and point of entry. This information must be submitted through both the ArriveCAN App and the iCent app - COVIDSafe section.
You will need to isolate in a place where you are not in contact with others, especially adults aged 65 years or over, and people with pre-existing medical conditions, and small children.You must stay in a separate room from others and use a separate bathroom if possible
You must not have visitors
Have any necessities such as medication or food delivered contactlessly
Keep a distance of 2 metres from others at all times
You must monitor your health for COVID symptoms.
You should not leave your residence during the 14 day period, unless you need medical attention. In that case, and if possible, call 1-866-797-0000 or access your Mobile Doctor support via guard.me, before visiting a health centre or a hospital.
You must respond to a daily check-in from Mohawk College staff during your 14 day quarantine.
You must daily COVID-19 symptom self-assessments using the ArriveCAN app.
---
Select your Quarantine Package
Arrival and quarantine plans are mandatory and must be pre-approved by Mohawk College prior to your travel. Students may choose to quarantine in the location that they have chosen for their long-term housing as long as it meets the requirements as outlined above.  If you will not quarantine in your long term housing then it is mandatory for you to choose one of the pre-approved locations that Mohawk College is providing. In order to better support you throughout your quarantine and self-isolation, Mohawk College has created a comprehensive package that will meet all of your needs.
Quarantine Packages must be selected and submitted at least 2 weeks prior to your arrival to allow for approvals and for bookings to be made. Mohawk College subsidized Quarantine Packages are only available to international students newly arriving in Canada to resume studies as a result of restrictions being lifted or begin studies in the first semester. If you will travel home and return to Canada at a later date you may request a quarantine package at the full rate.
The Quarantine Packages provided by Mohawk are all-inclusive and include private transportation from the airport to your Hamilton hotel, 3 meals a day, accommodations for 14 days and Wi-Fi. You will receive additional support for booking your mandatory COVID-19 test and daily check-ins from our wellness staff.  The package price is $1250 / student. This package has been heavily subsidized by Mohawk College to ensure that it remains affordable for all of our students. You may choose from the two pre-approved packages below: 
Our Student and Arrival's Coordinator will work with you to book the package of your choice. You will indicate your quarantine plan in the COVIDSafe app as outlined above and the coordinator will confirm your transportation and accommodations booking with you via email.
Payment for the Quarantine Package ($1250) will be debited to your student account at Mohawk College. The payment must be made by the end of your 14 day quarantine period by using the methods on the payment page.
If you are planning on quarantining within your long-term housing and you require private transportation from the airport to your place of quarantine, please indicate this need when you are completing your quarantine plans in the COVIDSafe App - Self-Isolation Form. The cost of transportation to locations within the GTA start at $100 and increase the further from Toronto airport you are staying. The final price will be confirmed by the Student and Arrivals coordinator.
Please note: Mohawk College does not authorize students to quarantine outside of Ontario and will not approve out-of-province quarantine plans.
---
Other Essential Preparations
Attend the Mohawk College Pre-Departure Webinar: Next Stop - Mohawk College, Nov. 25, 9am - 11am EST
Attend this mandatory session for all new students starting in January and learn all the information you need to know about arriving in Canada, studying at Mohawk and registering for your classes. Register for the Pre-Departure Session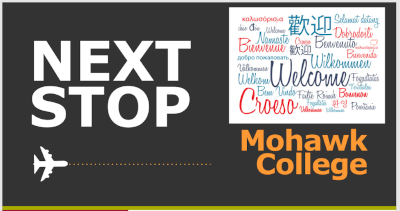 Review the Mandatory Government of Canada Advice
When preparing to come to Canada, please review the Government of Canada website for the steps to follow upon arrival. These steps are mandatory and will help control the spread of the virus.
What to pack
Here is a list of recommendations from Mohawk International on what items you should pack. You must have a non-medical face covering to wear during your entire journey.
Quarantine Planning
Ensure you have snacks, toiletries, medical equipment, etc. to last the duration of the 14 day quarantine period.
Phone Wi-Fi in Canada
Please contact the COVID Safe team via the iCent app for more details. International students will be provided a free SIM card from the Chatr Mobile booth at Pearson Airport in Canada, where you will be able to get support with setting up your phone Wi-Fi in Canada.
---
---
Step 2: Arrival in Canada
Airline Requirements and Airport Safety
Please review the Toronto Pearson Airport safety recommendations page before your flight.
Current students may travel as of November 17. New students beginning studies in January 2021 may travel after December 1.
If you are travelling by air, check your airline requirements before your flight. You will have to pass a health check done by your airline before you can board your flight. Anyone showing symptoms of COVID-19 will not be allowed to enter Canada.You must have a non-medical face covering to wear during your entire journey.
When entering Canada, you will be:
asked if you have a cough, fever or difficulty breathing
required to acknowledge that you must:

quarantine for 14 days if you don't have symptoms or
isolate for 14 days if you have symptoms of COVID-19

asked if you have a suitable place to isolate or quarantine, where:

you'll have access to water, food and medication
you won't have contact with people at high risk of severe illness from COVID-19
---
Immigration Requirements
Submit your quarantine (self-isolation) plan to Immigration Refugees, Citizenship Canada
Submit your plan using the ArriveCan app.
You need to plan to self-quarantine for 14 days even if you do not have COVID-19 symptoms.
Your quarantine plan lists where you will stay for the 14 days of self-isolation/quarantine, how you'll get to your destination, how you will get your groceries, and access essential services and medical care.
This plan is mandatory, even if you have no symptoms.
Provide your contact information to Immigration Officer
You will need to provide a working phone number AND your self-isolation/quarantine address to the Immigration Officer once you arrive at Toronto Pearson Airport.
Check-in with Mohawk College
Once you have passed through Immigration, you must check in with Mohawk College staff using the iCent app - COVIDSafe "Arrival Check-in" form, confirming you have arrived and are heading to your place of quarantine.
Proceed to Pick-up Location
If you have pre-arranged transportation provided by Mohawk College, proceed to the pick-up location as listed on your confirmation or follow the instructions in your confirmation email. Ensure you continue to wear a non-medical face covering.

Self-isolate/Quarantine
Once you enter Canada, you must self-isolate/quarantine for 14 days.
---
---
Step 3: During Self-Isolation and Quarantine
What to Expect during Self-Isolation and Quarantine
During Self-Isolation, you are expected to:
Stay inside your quarantine location
Not receive visitors
Avoid contact with others
Monitor yourself for symptoms
Check in daily using the ArriveCAN app
You will be called by the Government of Canada from the phone number 1-888-336-7735 to verify your compliance during your 14-day quarantine.
Note that you may also be contacted by provincial/territorial authorities throughout your 14-day quarantine. If federal and provincial/territorial guidelines differ, you should follow the most precautionary and stringent requirements
You will also receive a daily check-in from the Mohawk College Wellness Coordinator.
Check the Mohawk College Events calendar for events you may be able to attend virtually!
---
Quarantine Preparations
Medication, Supplies
Make arrangements for any necessities, such as medication, masks, cleaning supplies, phone/Internet etc, to be available and/or delivered to your residence.
If you are self-isolating at home (not at one of the recommended hotels), you can ask a friend/relative to help you by shopping for groceries and doing a no-contact drop off. You may also wish to use online delivery options. Some examples are below:
---
Mandatory COVID Test
COVID-19 testing requirements for all students, international and Canadian arriving from outside Canada:
The Government of Canada is mandating one COVID-19 test to be administered to every student who has traveled.
This test should be undertaken during the 14-day quarantine period on day 5, 6 or 7 and is required whether you are attending campus or not.
For full instructions on how to book your COVID test, and supports available to you, see the iCent App:

Select the COVID Safe icon
Choose: Testing During Self Isolation

Mohawk College will help facilitate the test whenever possible. We highly recommend choosing a Mohawk College quarantine package as we will be better able to support your testing requirement.
---
Mandatory 14th Day Attestation
At the end of your 14 day isolation you will be required to complete an attestation which will be sent to the college. This attestation includes a confirmation that you have received a COVID test during self-isolation and that you have had no symptoms of COVID during your 14-day quarantine period.
To locate the 14th Day Attestation Form:
Click the "COVID Safe Canada" icon
Click "Arriving to Canada" to find the form
---
Assistance During Quarantine
You will be asked to check in on the app each day of your self-isolation by completing the Daily Check-in. Find the Daily Check-in on the home screen of the iCent App. Mohawk College Wellness staff will check-in with you during your 14 day isolation to ensure your well-being, questions and supports are taken care of. If you need to reach the Wellness Coordinator for support, contact: studentwellness [at] mohawkcollege.ca.">studentwellness [at] mohawkcollege.ca.
---
Violation of Quarantine and Self-Isolation Policy
Violating any instructions provided to you when you entered Canada is an offence under the Quarantine Act and could lead to up to:
6 months in prison and/or
$750,000 in fines
If you choose to break your mandatory quarantine or isolation, resulting in the death or serious bodily harm of another person, you could face:
a fine of up to $1,000,000 or
imprisonment of up to 3 years or
both
Mohawk College is required by law to inform Public Health or Regional Law Enforcement if we become aware of any violations of the mandatory quarantine or self-isolation protocol.
---
If you feel ill/test positive during quarantine
If you feel ill during quarantine
During the first 14 days of isolation, if you are not feeling well and are showing COVID symptoms, use the self-assessment to determine if you may have COVID
If you think you have COVID, immediately call local Ontario Telehealth: 1-866-797-0000 and a nurse will ask you questions in order to direct you to appropriate care
If symptoms are severe for example difficulty breathing or severe muscle pain, call 911.
You can also call the Hamilton Public Health Services COVID-19 Hotline at 905-974-9848. When calling the doctor or Hamilton Public Health Services COVID-19 Hotline, They will ask you about your symptoms and travel history. Follow their instructions carefully.
guard.me Insurance: After you have checked your province's resources and recommendations, you may also use your Guard Me policy number to access an online or telephone consultation with a doctor who can assess your symptoms through guard.me/mobiledoctor. Your assessment via a Mobile Doctor will let you know if you need to go to a testing centre. COVID-19 test fees are only covered if you are showing symptoms of COVID-19. Reach out to Mobile Doctor and check for the closest assessment centre near your home.
To access Guard Me coverage at an additional cost before your semester starts, please visit the early arrivals tab via the guard.me website for Mohawk.
 
More information about the health insurance coverage can be found at guard.me, and more information about COVID-19 updates is available on the guard.me COVID-19 update site.

If you are not feeling well, please do not come to a Mohawk College campus.
If you test positive for COVID-19
If you test positive for COVID-19, please do not come to a Mohawk College campus.
Please inform anyone you have been in physical contact with so that they may self-isolate
Please complete the COVID-19 Self-Disclosure form and a Mohawk College team member will contact you. Mohawk College wants to keep everyone safe. Our team members will reach out to you, and help you navigate Hamilton resources.
---
After Quarantine
Once the 14-day period is complete, remember to always keep a distance of at least 2 arms lengths (approximately 2 metres) from others and wear a non-medical face covering.
Support COVID Contact Tracing - the COVID Alert app allows you to upload positive COVID tests, and see if anyone near you has tested positive.
Additional Helpful Links
Life in Hamilton
COVID-related Resources