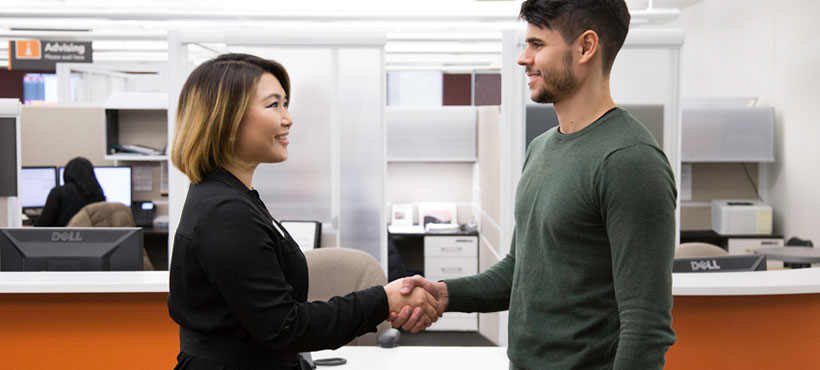 If you have received a Letter of Acceptance from Mohawk College, there are a number of steps you must take to secure a seat in your program. Once you've secured a seat in your program, there are a few additional things to do to be ready for your first day of classes.
Congratulations! We look forward to seeing you at Mohawk!
5. Registration
When you receive your Study Permit and have paid all tuition fees for your program, you will be able to register for your courses.
To avoid delays, you can register from home using the online registration system at MyMohawk.
If you experience any difficulties, please contact the Mohawk International team and we will help you get registered.
6. Staying Informed: iCent App for International Students
Download the mandatory International Centre (iCent) App today and have all the information you need at your fingertips!
The iCent App is your complete guide to help you get ready for the transition to Mohawk and Hamilton, and is FREE for new international students at Mohawk College.
Learn about all the next steps after receiving your offer letter, from checklists before leaving your country, key information you need to know before beginning your studies, to the services available and more.
To access the app, please follow these steps:
Visit the App Store or Google Play and download the app

Enter Canada in the "Institution Country" field

Enter Mohawk College International in the "Institution Name" field

Use your email to register for the app, you will be sent an email with your PIN. Please remember to check your Junk Mail inbox. 

Use your PIN to login the app. 
Should you have any questions and/or trouble logging in, write to: support [at] iCentapp.com

7. Coming to Canada
All international students travelling to Mohawk College from outside of Canada are required to self-isolate for a period of 14-days. Also, any other students returning to Canada within 14-days of the start date of their program must also complete a 14-day self-isolation period. These rules apply after any subsequent international travel for as long as the self-isolation requirement remains a directive of the Government of Canada. 
Please Note: All students, including those entering Canada from the United States, are only admitted to Canada if their travel is essential and they have a credible plan to quarantine/self-isolate for 14 days. (See the IRCC website for further information on entry to Canada.) See the Fall 2020 Program Delivery webpage to determine if your program has in-person requirements.
The following information is for students who are able to travel to Canada to study.
Most international students coming to study at Mohawk will arrive at Toronto's Pearson International Airport (YYZ). Pearson International Airport is about a 1 hour drive from Hamilton and Mohawk College.
As soon as your Study Permit application has been approved, you should begin planning your travel to Canada. In addition to your flights, you should also consider your transportation to and from airports and accommodations in Hamilton.
It is also a good time to check your passport. Please ensure your passport is valid AT LEAST through the end of your first semester.
Airport Welcome
We are here to greet you at Toronto Pearson Airport and answer your questions upon arrival. Learn more about our Airport Welcome service on the iCent App.
Ground Transportation options from Pearson International Airport to Hamilton include:
Taxi (always available)
Limo (always available)
Go Bus (Departs 30+ times per day) - most affordable option
Airways Transit - Mohawk College partners with Airways Transit to get you to/from Toronto Pearson International Airport and your local area destination (approximate travel time is one hour and fifteen minutes).  There is a fee for this service. Read more about Airways Transit.
Lyft (Must be contacted)
Uber (Must be contacted)
While we cannot guarantee pricing for any of these services, at time of writing the Go Bus at under $15 is a flexible and affordable option. (NOTE - the Go Bus goes to the Bus Station not directly to Mohawk College. A taxi, Lyft or Uber can take you the rest of the way.)
Other services from the airport to Mohawk College will range between approximately $75 and $150.
If you will be arriving in Hamilton during business hours you can provide the following address and directions to your driver:
Mohawk College
135 Fennell Avenue West
Hamilton, ON, Canada L9C 0E5

Tip: Passports & Important Documents – Keep a photocopy of your passport, your Study Permit and any other important identification documents in a safe place away from the originals. 
Hotels Near Mohawk
If you arrive on the weekend, on a holiday or outside of Mohawk College business hours, you may wish to have your driver take you to one of these reasonably priced hotels near your Mohawk campus. (Please refer to your LOA to determine which campus you will be attending.) Please note that by providing this list of hotels Mohawk College is not endorsing any of these businesses and this list is provided for convenience only.
Hotel Near Fennell Campus
Courtyard Hamilton (opens new window)
Telephone: 905-383-7772
Address: 1224 Upper James St, Hamilton, ON L9C 3B1
Hotel Near Institute for Applied Health Science at McMaster
Sheraton Hamilton (opens new window)
Telephone: 905-529-5515
Address: 116 King St W, Hamilton, ON L8P 4V3

Hotel Near Stoney Creek Campus
Comfort Inn Hamilton, (opens new window)
Telephone: 905-560-4500
Address: 49 Goderich Rd, Hamilton, ON L8E 4W8


Accommodations/Housing and Food
As soon as your Study Permit is approved, you should immediately arrange your living accommodations for your time in Hamilton. There are a number of living options for international students. Please note, you are not automatically placed in any accommodations and you must arrange this before you arrive.
It's also a good idea to think about how you will plan your food while at Mohawk.
For more information on accommodations and food options please see our Housing section.
8. Acquiring Program Equipment
Please read your course descriptions carefully and determine if there is any equipment or materials that might be needed. Make a plan to acquire these items before you leave home or when you arrive in Canada. If you wait until you arrive in Canada, please be sure to arrive early enough to allow time to find and acquire anything you might need. Some equipment is program specific and you may be required to purchase it once you have arrived in Canada.
9. Credit for Prior Learning/Advanced Standing
Course Exemptions and Prior Learning Assessment
Students who have successfully taken a course at another postsecondary institution may be able to earn credit towards their Mohawk credential. Students considering an exemption with international credentials should have their credentials assessed prior to arrival. Learn more at

course exemptions

.

Prior Learning Assessment & Recognition Students who can demonstrate past learning through informal study, work and life experiences may receive course credit. Learn more at

Prior Learning Accessment & Recognition

.
10. If your Study Permit Application is Denied
If you have been informed by Immigration, Refugee and Citizenship Canada that your application for a Study Permit has been denied, you have two options:
1) If you think you might be approved for a Study Permit in the future, you can defer your admission to an upcoming intake. If you would like to defer your admission, please take the following steps
Fill in and submit our deferral inquiry form
Request a new Letter of Acceptance
Include your preferred intake/start date (January, May or September)
2) If your Study Permit has been denied, you can request a refund. Please refer to our Refund Policy page for more information.
That covers the application process right up to your arrival at Mohawk!
The information we've supplied throughout the apply section should cover everything you need to know about applying to Mohawk.
Not sure what to bring with you? check this Packing List for a list of useful items you might wish to bring with you to Canada.
That covers the application process right up to beginning your studies at Mohawk!
The information we've supplied throughout the apply section should cover everything you need to know about applying to Mohawk. See our "Get Ready to Start" section for next steps!