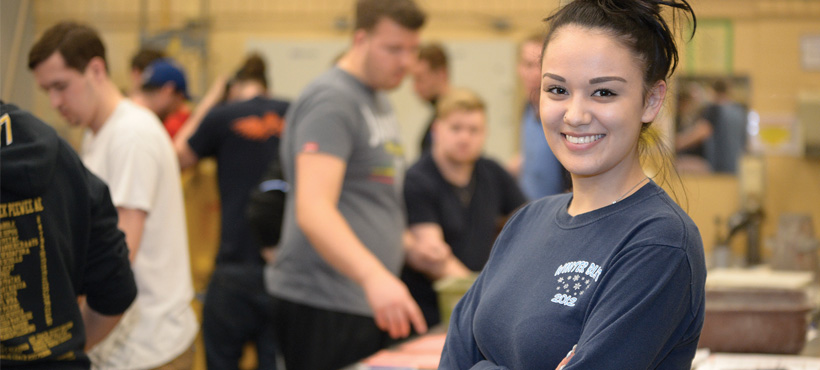 Join a workforce in-demand. With a number of Skilled Trades and Apprenticeship programs, Mohawk is one of Ontario's largest Skilled Trades and Apprenticeship Colleges. Learn more below about joining a Skill Trade or Apprenticeship.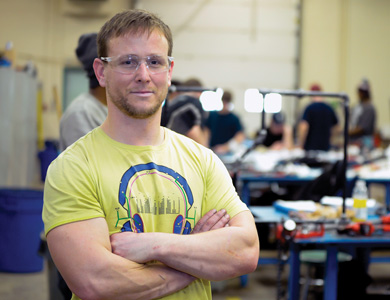 Skilled Trades Certificate Programs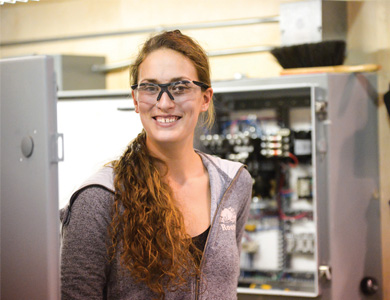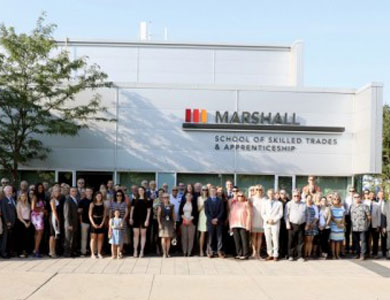 Marshall Family Supports Trades Programs at Mohawk
Apprenticeships
Additional Information
Video Testimonials
See what our students have to say about our programs, apprenticeship and projects.
Students & Alumni
Jason Dobson
General Machinist Apprenticeship
Jason talks about what inspired him to become a machinist and how Mohawk College's Apprenticeship program made it happen.
Joal Roshko
Construction Engineering Technician - Building Renovation
Joal tells us how great teachers, and the right facilities helped to make his goal of becoming an entrepreneur a reality. 
Nick Mancini 
General Carpenter Apprenticeship
Nick tells us about his company, Heartwood Renovations and how co-ops in high school through to graduating from the pre-apprenticeship program at Mohawk helped him realize his dreams.
Projects and Events
See what our students have to say about our programs, apprenticeship and projects.
The Women in Skilled Trades program partners with Mohawk College to train women for careers in the construction industry.
Learn more about the WIST program, a tuition-paid program for 20 participants, with 28 weeks of in-class/on-site instruction and an 18-week work placement.
Mohawk College and Walters Inc. launch program to meet skilled trades shortage
Hear why partnerships between skilled trade businesses such as Walters Inc. and Mohawk are so important and how it has made a difference to our students.
Grundfos Canada announces $25,000 partnership with Mohawk College
Mohawk will receive $25,000 over the next five years for new equipment, teaching materials and a bursary.
Ontario Trillium Foundation turns Theatre Ancaster into living lab for 100 Mohawk College students
Building Renovation Technician students from Mohawk College began renovations to the Old Fire hall Arts Centre in Ancaster, Ontario.
Women in Trades
Skilled Trades can be a great route for young female graduates looking to 'get out of the office'. With numerous opportunities available, the best man for the job… may be a woman! 
Learn more about Women in Trades and Continuing Education.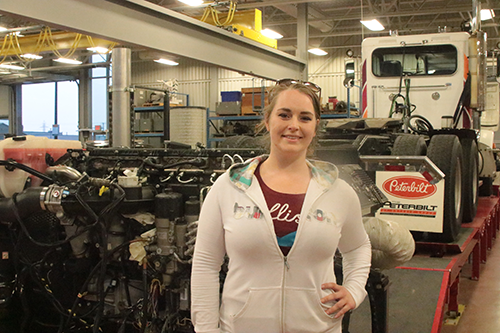 In the Spotlight
Read about Mohawk Alumni Nicole LeClair in Engage Magazine (page 24).
Read about Phoebe Hawkyard currently enrolled in the truck and coach apprenticeship program. Six years out of high school Phoebe has found her career match.
Think Differently
Shortages in skilled trades have forced industry to think differently about who they can attract, retain and promote within the skilled trades. This change of view has been able to provide an abundance of opportunities for women who are considering skilled trades careers.
Consider the Facts:
Women working in the skilled trades is not new. During World War II, for example, women stepped in to perform the important jobs vacated by men who were fighting overseas.
Jobs in the skilled trades offer wages above the average salary, while providing an opportunity to "earn while you learn" through apprenticeship programs.
Brute strength is not a requirement for skilled tradespeople. While there is certainly a physical component to most trades, technology has changed the nature of how work gets done.
Women working in the trades typically report that they feel their work builds self-confidence, is gratifying, that it's "fun to be at work" and great to "not be tied to a desk."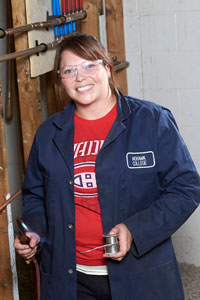 Interested in becoming a woman in skilled trades and have questions? Contact the Marshall School of Skilled Trades & Apprenticeship at 905-575-1212 ext. 5000 to get started.
More Information
Information for Employers
The steel fabricated at Walters Inc.'s plants in Hamilton, Ontario is used in major construction projects throughout North America, including the Bow Centre in Calgary.
Employers are our key partners in training and education. Our student and teaching successes rely on the strong relationships we build with business and industry, allowing us to deliver a high-quality product that meets the needs of the workforce today and in the future.
Recruitment
Mohawk College prides itself on its reputation of educational and employment success. For more information on how we can address your employment needs, please contact:
Christine Boucher
Student & Graduate Employment
Phone: 905-575-2373
Email: chris.boucher@mohawkcollege.ca
Hire a Co-op Student
Looking for an exceptional student to hire? Please contact me for more information on the Manufacturing Engineering & Electrical Co-op Apprenticeship Diploma programs:
Karen Brown
Co-op Specialist
Phone: 905-575-1212 ext. 5045
Email: karen.brown@mohawkcollege.ca
For more information on co-operative education tax credits, please visit the CETC (opens new window) website.
How to Help
Mohawk values your expertise and ability to make a difference in our training. With your guidance we can build a skilled workforce and with your help we can provide more opportunities for our students.
Awards and Scholarships
Mohawk College offers many different scholarships to its skilled trades and apprenticeship students. To review the scholarships available and apply, visit our Awards, Scholarships & Bursaries section in Financial Assistance.
Skills Canada - Ontario Awards and Scholarships
Learn more about the awards and scholarships offered by Skills Canada - Ontario (opens new window).
Apprenticeship Incentive Grant
A taxable cash grant of $1000 per year, available to registered apprentices. Visit AIG (opens new window) to learn more.
Apprenticeship Completion Grant
A taxable cash grant of $2000 maximum, available to registered apprentices who have successfully completed their apprenticeship and became certified. Visit ACG (opens new window) to learn more.
Meet our Faculty
We'd like to introduce you to some of the knowledgeable and remarkable professors and instructors who work in the Marshall School of Skilled Trades & Apprenticeship at Mohawk College.
Outstanding faculty who've practiced what they teach. Who bring a wealth of industry experience, contacts and connections into the classroom. And who can't wait to share with you what they've learned on the job.
At Mohawk, we believe real-world experience plus hands-on learning equals a great education. So if you want a great education that leads to your dream job, learn from experience.
Learn with the best. Learn at Mohawk College.
Check out videos of our outstanding faculty:

Robert Deeks
Motive Power

Charles Honey
Motive Power
Related Videos
Mohawk College offers a variety 
of career oriented engineering 
technology courses
Visit our YouTube account (opens new window) for more Mohawk College Videos
Skills Shortages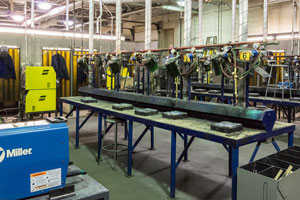 Many more people in the skilled trades are retiring than are entering the system. By 2020, it is estimated that Canada could be short about 1 million workers due to an aging population and declining birth rates (Conference Board of Canada, 2000). The hardest-hit industries will be manufacturing, construction, petroleum production and transportation.
In the next two decades, 40% of new jobs will be in the skilled trades and technologies. Almost 50% of businesses surveyed in 2003 said a shortage of qualified labour was one of the most important issues facing them (Canadian Federation of Independent Business, 2003).
According to the Ontario Youth Apprenticeship Program (opens new window), many skilled tradespeople now earn six-figure incomes with excellent benefits. Despite the potential earnings and benefits, youth are not entering the trades in large enough numbers to offset the potential labour shortage.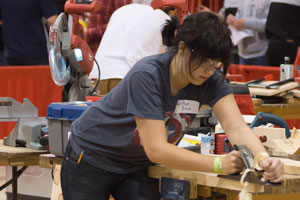 Why it's good to be in a Skilled Trade:
Skilled trades are the foundation of our economy
Many skilled trades workers earn a six-figure salary
You can often count on job security and good benefits
A large percentage of workers own their own businesses
---
Contact Us
Skilled Trades
Phone: 905-575-1212 ext. 5000
Apprenticeship
Phone: 905-575-2545
Phone Toll Free: 1-866-489-4054
apprenticeship@mohawkcollege.ca
Request more information about the Marshall School of Skilled Trades & Apprenticeship